A VILLAGE OF DOLTON BOARD MEETING RAISES CONCERNS ABOUT LACK OF POLICE
7/18/2018, noon | Updated on 7/18/2018, noon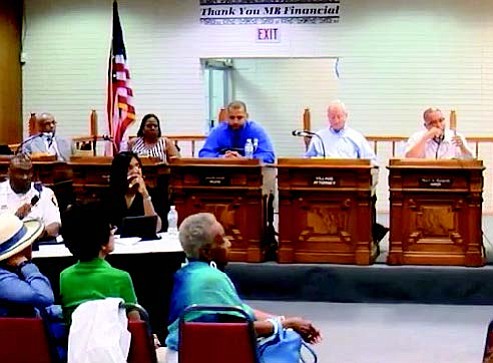 A Village of Dolton Board Meeting Raises Concerns About Lack of Police
BY KATHERINE NEWMAN
The Village of Dolton recently held a Committee of The Whole meeting where they discussed several current projects, programs, and concerns within the community. One woman, who identified herself as Beth, raised the questions of why three retired police officers have not been replaced in the Village.
"I am very concerned about the policing of the Village of Dolton with the number of police officers that we have," said Beth. "I'm not saying that the police aren't doing their jobs, I'm just saying that we need more police officers."
The Village of Dolton Resident, Beth, continued with her public comment and became very upset as she called for immediate action from the board saying, "if you can't get us more police, resign right now, you are not doing your job."
A Village of Dolton Trustee, Robert Pierson Jr., immediately responded to the resident's outcry for more police officers in the community.
"Anybody can stand up and say that we can hire police but this budget don't have money in it for police. I want more police, this board wants more police but we can't spend what we don't have," said Pierson.
The Mayor of Dolton, Riley Rogers, interrupted Pierson to say that his statement was not true.
"We have to redo the budget. We tabled [hiring police officers] so we could see, after the budget, if we are going to have enough money to hire one or two police officers. Right now, we have to look at the whole budget simply because we cannot do what prior administrations did," said Pierson.
Trustee Pierson later made it clear that what he was alluding to when he said, " we cannot do what prior administration did," was that in past years, the Village of Dolton had been transferring money from the water fund to the general fund to balance their budget.
Mayor Rogers stepped in to ask a few questions of his own. He called on the Village of Dolton Police Chief, Robert Collins Jr., to verify how many officers the department is currently down. Collins confirmed that there were three police officers that retired last year.
"We had three that retired that we were budgeted for so in that budget, of the three that retired in the budget that was approved by this board, how come we couldn't replace those three?" Rogers asked.
Trustee Pierson shouted out to say that the Village of Dolton was "$2 million over in that budget."
The Mayor made one final statement before moving on to the next subject.
"We need police officers, and I've asked for police officers several times and [the Board of Trustees] has said no, we are not going to hire them," said Rogers. "If the people don't feel safe in this community, they are going to leave. If the business people don't feel safe in this community, they are going to leave."
For a list of upcoming board meetings in the Village of Dolton, visit vodolton.org.