New Mural On The Major Taylor Trail Honors World Champion Cyclist
7/11/2018, noon | Updated on 7/11/2018, noon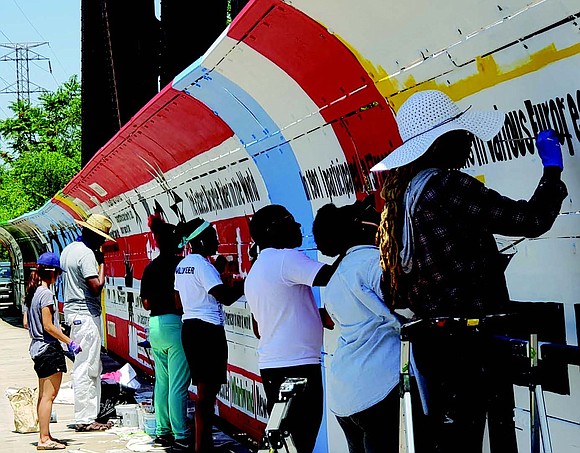 New Mural On The Major Taylor Trail Honors World Champion Cyclist
BY KATHERINE NEWMAN
A new mural on the Major Taylor Trail honors the story of legendary cyclist Marshall "Major" Taylor.
The mural was designed by Bernard Williams and produced in partnership with Archi-treasures as part of a larger effort by local groups to make environmental and aesthetic riverfront improvements to the Little Calumet River.
Local groups involved in the larger effort to make riverfront improvements include the Community and Neighborhood Improvement Project, Friends of the Major Taylor Trail and Terra Engineering.
Archi-treasures is a Bronzeville based non-profit organization that works with community partners across the city to develop urban beautification projects in public spaces, affordable housing developments and neighborhood common spaces to revitalize areas that have been targeted for redevelopment.
"Our art projects are normally done with local partners and we engage community members in the design process and the creative process to develop artworks such as murals and then try to integrate opportunities for community members to come out and actually help us with the mural," said Manwah Lee, executive director of Archi-treasures Community painting days for the Major Taylor Trail mural were recently held on June 29 and 30 and community members were invited to come out to paint their own piece of the mural and learn about Major Taylor.
During his brief time as a competitive cyclist, Major Taylor earned several world records and competed in events around the globe. In 1899, Taylor was crowned a nation and international champion in cycling which made him the second African American to hold a World Champion title in any sport. By the age of 32, Taylor retired from cycling because of the demanding schedule and the stark racism he experienced while competing. He died in Chicago in 1932 and is buried in Mount Glenwood Cemetery, according to biography.com.
"Not a lot of people know who Major Taylor is and that is one of the reasons why this mural is being created because he actually has a really interesting story. Essentially, he was a world champion cyclist from the turn of the century and is significant because not only at that time was he facing a ton of discrimination, but he was able to overcome that and become a champion cyclist, not just in this country, but also across the world. The trail features highlights of his life as a world champion," said Lee.
The Major Taylor Trail Mural spans about 4,000 square feet and is painted on the steel wall of a pedestrian bridge that crosses over the Little Calumet River near the corner of 129th St. and S. Eggleston Ave.
There will be a ribbon-cutting ceremony for the completed mural on July 21 at 8 a.m. at the Whistler Woods Forest Preserve. The ceremony will also honor the 10-year anniversary of the Major Taylor Trail and the Major Taylor Cycling Club Chicago with a 5k Run and Walk following the ribbon cutting.