Illinois Senator Donne Trotter Retires
1/24/2018, noon | Updated on 1/24/2018, noon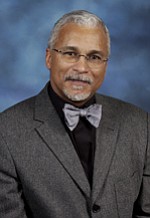 Illinois Senate Black Caucus: Sen. Trotter will be sorely missed
Members of the Illinois Legislative Black Caucus released the following statement regarding Senator Donne Trotter's resignation from the Illinois State Senate:
"Senator Donne Trotter has been the consummate example of dedication to not only the citizens of the 17th District, but to the great people of this entire state. His 30 years as a member of the General Assembly, and specifically his 25 years as a member of the Illinois Senate have shown the Senator's passion for public service.
The Caucus will miss the Senator's wealth of institutional knowledge and dedication to ensuring all Illinois residents have access to quality health care, education and general life wellness.
Senator Trotter has stood fair and firm throughout his illustrious career. The Illinois Legislative Black Caucus thanks him for his three decades of service, and wishes him nothing but the best during his retirement."
Members of the caucus released individual statements below:
Senator Kimberly A. Lightford (D-Maywood): "It has a been an incredible journey working alongside my dear friend and colleague Leader Trotter for 20 of his 30 years of service. He was the seasoned appropriations chairman and public health enthusiast when I arrived and always showed me leadership, expertise and commitment. I will truly miss him, his support and his passion for serving people. He helped to lay the foundation for the Illinois Legislative Black Caucus and his legacy will continue on for generations to come."
Senator Toi Hutchinson (D- Chicago Heights): "It is not easy to sum up a career in public service in just a few words. But my knowledge of the budget and revenue process was sharpened in a way that could have only happened with a teacher like Donne Trotter. From his impact on the National Conference of State Legislatures and the National Black Caucus of State Legislators to our statehouse, he challenged us to be better. And that means we as legislators are better for his service."
Senator James F. Clayborne (D- Belleville): "Senator Trotter has been a public servant and champion of his community for his whole life. His knowledge of complex issues and ability to work across the aisle will be sorely missed."
Senator Mattie Hunter (D- Chicago): "I've known Senator Trotter long before I became a legislator. When I worked for the Human Resources Development Institute he was our go-to guy for legislation and funding purposes. When I later became a colleague, Sen. Trotter and I worked together on many issues to address behavioral health and other social services. He was a great advisor and his institutional knowledge will be greatly missed."
Senator Kwame Raoul (D- Chicago): "I was lucky enough to call Senator Trotter not just my colleague, but also my mentor, my roommate and my friend. He supported me in replacing Barack Obama in the Senate when it was not popular in Springfield to do so, and I have benefited from his advice and support ever since. His intelligence, dedication and compassion will be sorely missed in the Senate."
Senator Jacqueline Y. Collins (D-Chicago): "I have had the honor and privilege of serving with Senator Trotter over the last 13 years. He's a true gem and gentleman in the Illinois General Assembly. Donne is well-read, knowledgeable and a powerful advocate and voice for the children and families of the state. No one ever has to wonder what he's thinking because his remarks can be both brilliant and biting. Sometimes a jester but always a drum major for justice. He's a public servant with heart, who embodies character, courage, and compassion. Donne is a dapper man of distinction, dignity, and decency, and I will truly miss my colleague and friend."