Fast Food Workers Fight for $15
2/21/2018, 1:15 p.m. | Updated on 2/21/2018, 1:15 p.m.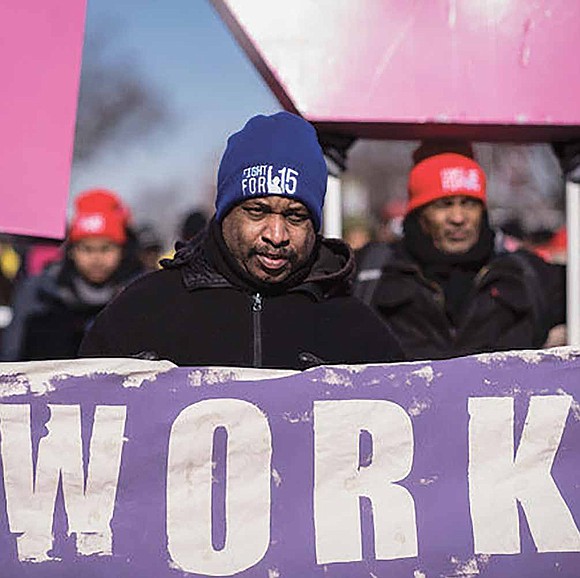 Fast Food Workers Fight for $15
By Christopher Shuttlesworth
Fast-food workers in the Fight for $15 recently rallied at a local Chicago McDonald's to join national protests in honor of the 50th Anniversary of the
historic 1968 Memphis sanitation strike, which became a rallying cry of the 1968 Poor People's Campaign led by Dr. Martin Luther King, Jr.
The Memphis Sanitation Strike began Feb. 12, 1968, after two sanitation workers were crushed to death by faulty equipment, according to a Fight for
$15 press release. As a result, hundreds of Black men decided to strike for recognition of their union, a local of the American Federation of State, County and Municipal Employees, and demanded a raise to $2 an hour – the equivalent of $15.73 today after inflation.
"Our mission is to follow the tradition of the sanitation workers and move history forward to demand $15 an hour and union rights," said Tyree Johnson, a McDonald's fast food worker. "In 1968, things were much different because of the color of our skin, and our background. But we should be a lot further ahead with economic and racial justice than we are."
The recent fast-food workers' strikes and protests come due to politicians cutting minimum wages and attacking unions across the country, disproportionately harming workers of color, according to a Fight for $15 press release.
Johnson said he has dedicated his life to working at McDonalds for 26 years and feels he shouldn't be paid cheap money, but be paid for what he deserves, which he says is $15 an hour.
"The purpose of the strike was to uplift Dr. King's message and the celebration of the sanitation workers who went on strike (50 years ago) for the same thing we are fighting for," Johnson said. "My purpose was to keep the message going and keep my brothers and sisters ready to do whatever it takes to get $15 including our dignity and respect."
He continued to say that McDonald's is a billion dollar corporation that can afford to pay $15 an hour without losing profit.
Currently, more than half of Black workers and nearly 60 percent of Latino workers are paid less than $15, according to an analysis by the National
Employment Law Project.
"Workers like me are the unseen faces of hospital work," said LaKeena Whitfield, a patient care technician at Northwestern Memorial Hospital. "The
foundational work that keeps hospitals open is done by people like me-- workers who are mostly women and mainly women of color."
Local fast-food workers plan to participate in six weeks of direct action and nonviolent civil disobedience as part of the new Poor People's Campaign: A National Call for Moral Revival, uniting two of the nation's most powerful social movements in a common fight for strong unions.
"We're going to keep protesting and marching until Governor Bruce Rauner gives us what we deserve which is $15 an hour and our union rights," Johnson said. "By 2019, it will be $13 so all we have to do is get two more dollars to make this a reality, not a dream."
The Fight for $15 launched a new website where visitors can create their own versions of the iconic "I AM A MAN" sign. For more information, visit at
https://www.fightfor15.org/iam/.