Holiday Lights Make an Impact On Chicago's South Side Communities
12/19/2018, noon | Updated on 12/19/2018, noon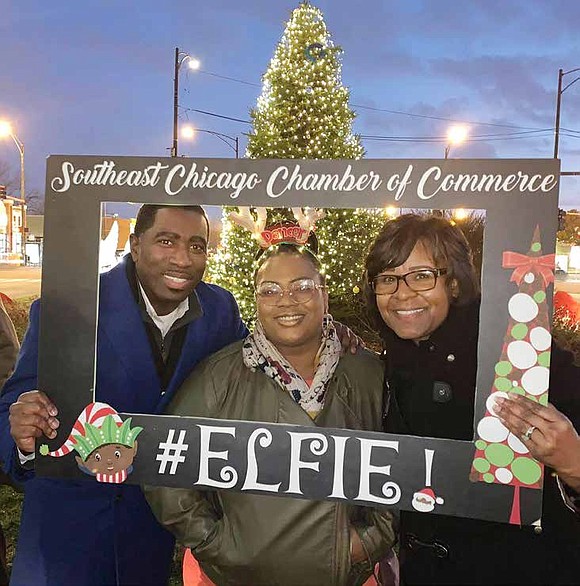 Holiday Lights Make an Impact On Chicago's South Side Communities
BY KATHERINE NEWMAN
Shortly after Thanksgiving, elaborate displays of holiday lights begin to appear across the city, most notably the Christmas tree and holiday window displays downtown. Outside of downtown, many south side communities also create their own displays to prepare for the holidays including The Southeast Chicago Chamber of Commerce who recently held their annual tree lighting ceremony.
The Southeast Chicago Chamber of Commerce is a nonprofit organization that serves the Calumet Heights and Avalon Park neighborhoods. The organization works to support investment and development within the community.
"This is a predominantly black middle- class community and the role of the Chamber is that we have the sole responsibility to manage programs and support efforts to improve the commercial corridors in that area. We have a contract with the city of Chicago that makes us a neighborhood business development center as well as a levy that makes us a Special Services Area which gives us funding to provide programs, events, and spaces to support the improvement of those business corridors," said Frankye Payne, executive director of the Southeast Chicago Chamber of Commerce.
Funds for the holiday decorations that the Chamber has displayed on Stony Island Avenue came from funding they received by being a Special Service area in Chicago. Special Service Areas are local tax districts that fund expanded services and programs through a localized property tax levy within contiguous areas. The enhanced services and programs are in addition to those currently provided through the City, according to the City of Chicago.
"Special Service Areas are basically just a tax increase that is specifically put on businesses, specifically commercial corridors, and those funds go to provide things like holiday decorations and litter removal and things like that," said Payne. " Having a Special Service Area as an urban planning tool on the south side of Chicago specifically speaks to a need for services that are often lacking due to the geography of being on the south side and limited resources."
The idea for adding holiday decorations on Stony Island Avenue was simply because the Chamber sensed a need for added beautification in the area after summer had ended which correlated with the coming holiday season.
"What's wonderful about our holiday decorations is that they really came at a time where we were just starting to think about the holiday season," said Payne. "We knew the holiday season was coming. We knew we really had to shine a light on the positive energy that we have in the community," said Payne.
The Chamber was very intentional about making sure that the holiday decor they chose was inclusive and relatable.
"Our holiday decor consists of white doves which represent peace and a red ribbon that flows through the island on Stony Island Avenue. We wanted to be very inclusive and to present the overarching theme of peace knowing that it is something that everybody can take hold of and honor," said Payne.