CHICAGO TO HOST SPECTACULAR WEEKEND OF MARINE MOTORSPORT
8/29/2018, 1:31 p.m. | Updated on 8/29/2018, 1:31 p.m.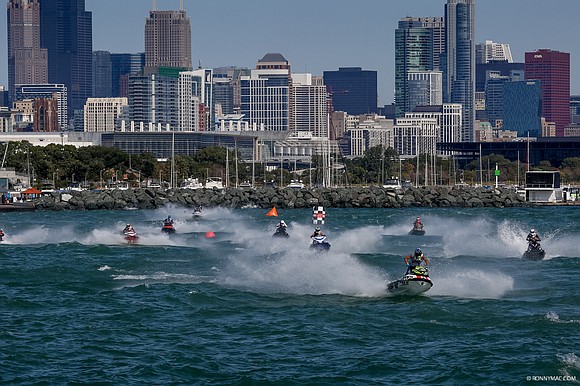 CHICAGO TO HOST SPECTACULAR WEEKEND OF MARINE MOTORSPORT
This Weekend Saturday, September 1, Chicago's 31st Street Harbor is set to throw up some challenges and turn up the heat on the P1 AquaX as the US series continues.
The weekend will mark the penultimate event on the US series calendar, which has already visited the likes of Miami, FL., St Pete Beach FL, and most recently, Whiting, IN. It will also see the conclusion of the 2018 North East region series.
Spectators can catch the action from both the amateur and pro enduro classes starting at 10:00am Saturday morning. One local rider who knows the Chicago 31st Street Harbor area like the back of his hand is Dean Harrison.
Harrison commented: "The high amount of boat traffic in the area makes for a lot of unpredictable waves. When the swell bounces back off the shore walls, it creates some really challenging race conditions. Tactics and ski choice will be a major factor in this race.
Sadly, injury has plagued Harrison throughout the season and he has been unable to compete. However, Harrison doubles up as a team manager for the UK rider, Brad Rickaby.
The former seven-time British and three-time European closed course champion, has, according to Harrison, "been training hard in the UK and is hoping for a strong result in Chicago."
Rickaby will be competing in the same class as Eric "The Eagle" Francis, who was the victor at last year's Chicago event with a big 23-point lead.
Francis, who is enjoying a great season having recently been named number one in the official World Rankings, will be in everyone's sights as he tries to hold onto the Chicago title.
While he may be sitting pretty at the top going into Chicago, Francis cannot afford to rest on his laurels as his main competitor, Brian Baldwin, is riding only 14 points behind. The battle for the Championship is sure to heat up as we approach the finals rounds of the season.
Azam Rangoonwala, the CEO of Powerboat P1 said: "This is the second year in which the 31st Street Harbor has hosted our AquaX event and the venue is sure to bring some unique challenges for the riders. This round will be a true test of strength, determination and strategy, and from experience, I think they will deliver on all levels."
To plan your weekend of spectating visit www.p1aquax.com to view the full event schedule.