SOUTH SUBURBAN RESIDENTS PROTEST PROPOSED SCHOOL CLOSURES
8/1/2018, noon | Updated on 8/1/2018, noon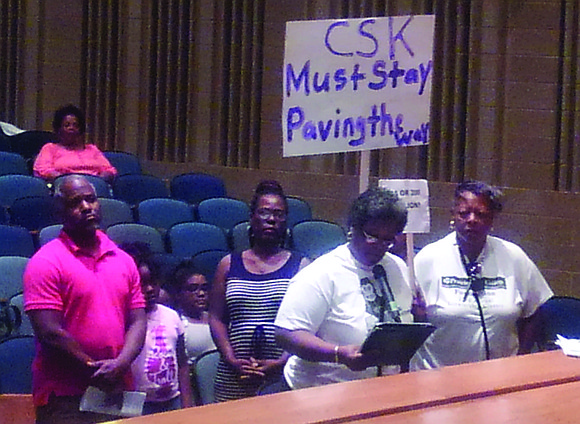 South Suburban Residents Protest Proposed School Closures
BY KATHERINE NEWMAN
Residents of the Crete-Monee Community Unit School District 201-U (SD 201-U) recently held a protest in front of Coretta Scott King Magnet Elementary in University Park to express their disapproval of the new SD 201-U Facility Management Plan which calls for the closure of the Coretta Scott King Magnet Elementary and Talala Elementary.
SD 201-U encompasses Monee Township and most of Crete Township which includes the Village of Monee, a small portion of the Village of Park Forest, the Village of Crete, and the surrounding unincorporated lands.
Currently, the School District serves around 5,000 students from pre-kindergarten through 12th grade and operates four K-5 elementary schools, one K-8 Magnet School, one middle school for grades 6 through 8 and one high school for 9th through 12th graders, according to the SD 201-U website.
Under the new Facility Management Plan, which the district is referring to as The Plan, there will be a massive restructuring of the current educational facilities that includes the closure of 3 out of the 4 current elementary schools, two located in Crete and one in Park Forest, and the demolition of Coretta Scott King Magnet Elementary in University Park.
The Plan also includes a large investment in expanding current facilities and building new facilities in Crete and Monee that will make room for all of SD 201-U's students.
The School District recently posted an informational flyer about step one of The Plan which will reorganize elementary schools into two grade learning centers, one for K-2nd grade and one for 3rd-5th grade.
The School District also listed "exciting benefits" of The Plan as creating district-wide equitable access to International Baccalaureate programs, state of the art technology, equalized class sizes to achieve equity, and equal time in art, music, physical education, and library classes for all students.
"I find it unbelievable that they are looking to close Coretta Scott King Magnet Elementary and they are looking to close Talala Elementary. You hear people say it's great to consolidate and there's nothing wrong with it but it's more than that. There is a soft component that's involved with this, there are emotions that are involved with this," said Maurice Brown, SD 201-U Board Member.
Protesters in opposition to The Plan brought up the fact that with these school closures, every student in the region of Park Forest that is served by SD 201-U will have to be bussed to school each day.
"This master plan comes out with an $84 million budget and says we are closing Coretta Scott King, closing Balmoral Elementary, and closing Talala which is our only school in the portion of Park Forest that serves our school district in Will County and Coretta Scott King is the number one academically achieving school in our district," Brown stated.
For more information on The Plan and a schedule of upcoming school board meetings, visit www.cm201u.org.