The Metropolitan Board of the Chicago Urban League Gives Back in a Big Way with their 11th Annual MBoutique Experience
4/11/2018, noon | Updated on 4/11/2018, noon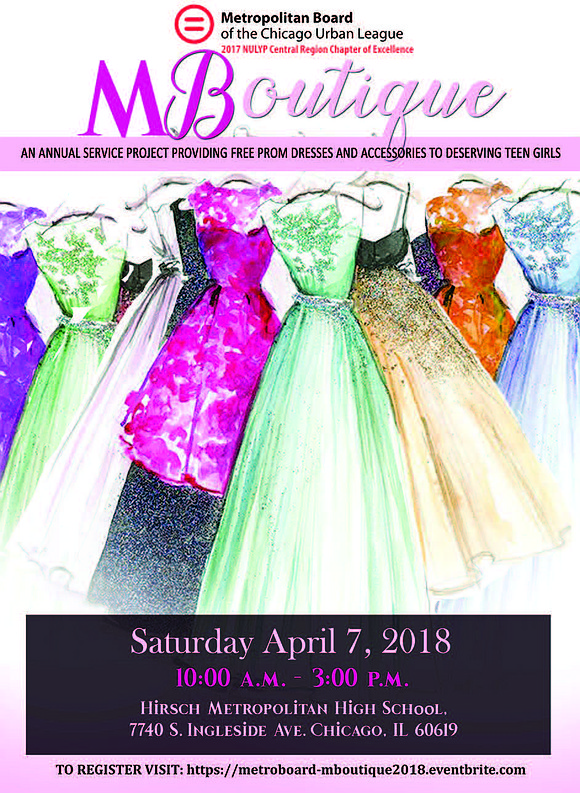 The Metropolitan Board of the Chicago Urban League Gives Back in a Big Way with their 11th Annual MBoutique Experience
CHICAGO –The Metropolitan Board of the Chicago Urban League gears up for its 11th Annual MBoutique, a signature event dedicated to uplifting Chicagoland youth by providing prom essentials to high school students. Every year, MBoutique serves more than 150 high school participants, providing them with the opportunity to receive all of their prom needs in one place for free.
MBoutique will be held on Saturday, April 7, 2018 from 11:00 am – 3:00 pm at Hirsch Metropolitan High School, located at 7740 S. Ingleside Ave in Chicago, IL 60619. Local residents, salons, boutiques and companies donate hundreds of products, dresses, accessories and services for this initiative. Hair stylists and make-up artists will be on hand to assist with coordinating looks and sharing tips to help attendees prepare for their special day. Donations for the event are being accepted at 4 locations this year: The Chicago Urban League, 4510 S. Michigan Ave; Junior League of Chicago, 1447 N. Astor Dr; Tailorite Cleaners, 6507 S. King Dr; and the Silver Room, 1506 E. 53rd Street.
The Metropolitan Board is committed to promoting and supporting the mission of the Chicago Urban League through community outreach, fundraising and membership development.
Admission is free and open to high school students across the Chicagoland area. Interested students can register for the event at mboutique2018.eventbrite.com. MBoutique is still accepting in-kind donations of dresses, shoes, accessories, makeup and grooming products for this year's event. Interested parties can contact mboutique1983@gmail.com.
For additional information please visit www.metroboard.org. You can also follow them on social media. Facebook: @Metroboard; Twitter, Instagram, and YouTube: @MetroboardCUL.