99-Year-Old Friend of Dr. King Shares Memories of Civil Rights in Chicago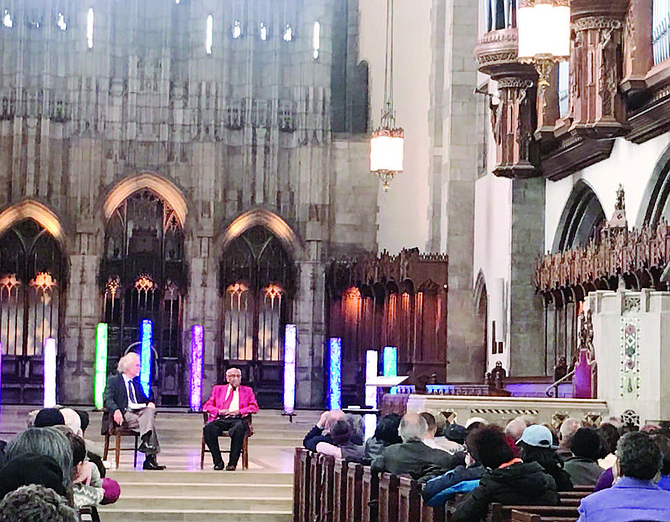 ---
99-Year-Old Friend of Dr. King Shares Memories of Civil Rights in Chicago
BY KATHERINE NEWMAN
Timuel Black recently spoke at the Rockefeller Memorial Chapel in Hyde Park to honor the 50th anniversary of Dr. Martin Luther King Jr.'s assassination. Black worked closely with King during the civil rights movement and was instrumental in orchestrating King's first Chicago appearance in April of 1956 where he gave a moving speech at the same venue.
Even at 99-years-old, Black still has vivid memories of meeting and working with King. He talked about the first time he saw King and how he immediately connected with the movement King was leading. Shortly after seeing King speak on television, Black traveled to Montgomery, AL, to meet him.
"I went to Montgomery and I met him and other people who had participated in his marches. From that point forward I followed Dr. King reverently because I was tired and I wasn't the only one that was tired, there were Hyde Parkers that were tired, there we other people across the country that were tired, but we were not too tired to walk behind this great man and I have never forgotten the power of that voice that told the world that we were tired of racism, segregation, and inequality," said Black.
Born Dec. 7, 1918, in Birmingham, AL, Black and his family migrated to the south side of Chicago when he was eight months old. He remembers growing up in racially restrictive housing covenants which led to overcrowding and poverty in black neighborhoods.
"That experience carried me to work with Dr. King. and when he came to Chicago to bring attention to housing I was very much involved because housing had always been a
factor in the north and in Chicago specifically which was the most segregated northern city in the country at the time," said Black.
King was known for his peaceful methods of protesting and resisting racial inequalities. He encouraged all of his followers to never engage in violence no matter the
circumstances. This admirable quality was something that made Black worry about King's safety.
"In the south, it worked because people expected blacks to fight back, they didn't know what to do when they didn't. I always worried how long he would be safe in this social system and he was attacked, not just once.
His house was burnt, he was stabbed by a woman in Harlem, so I kept always worrying that his attitude and his behavior would give someone that opportunity to assassinate him, and that did end up happening April 4th, 1968," said Black.
The day that King died, Black was going to visit his sick father in the hospital. He said that he was so angry and hurt to hear the news of King's assassination. "It was a painful day," said Black.
---