I AM 2018 Movement Launched in Memphis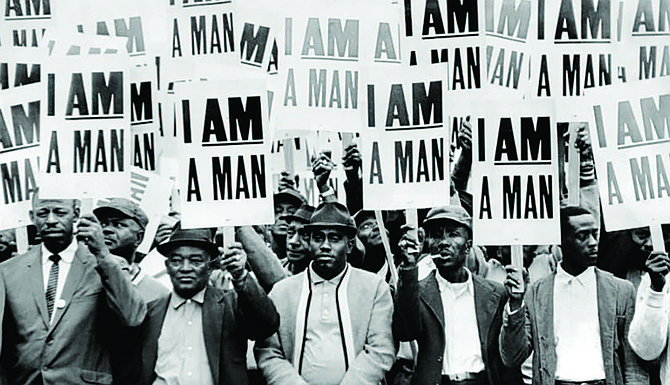 ---
Common, Danny Glover, Andrew Young, Dr. Bernice King, Martin Luther King III, Civil Rights, Labor and Faith Leaders Launch "I AM 2018" Movement in Memphis
MEMPHIS, TN - As the nation grapples with deep racial and economic injustices and inequality in communities from coast to coast, the American Federation of State County and Municipal Employees (AFSCME) and Church of God in Christ (COGIC) recently launched a national effort to ensure that the legacy of Dr. Martin Luther King, Jr. and the 1968 Memphis sanitation strikers live on with a new generation of activists. With the goal of advancing labor and civil rights and tackling issues plaguing low-income communities nationwide, the I AM 2018 campaign is transforming Memphis into the birthplace of a new political movement and aggressive voter education and civic engagement program to mobilize turnout for the 2018 elections and beyond. The campaign was launched on April 2 and is continuing today on April 4.
Dr. King was assassinated on April 4, 1968. Fifty years to the day of his assassination- the country's most prominent civil rights, faith, labor, entertainment and other leaders are holding the first-of-its-kind trainings, mobilization and commemoration activities across the city, including at Mason Temple COGIC, the site of Dr. King's final, prophetic "I've been to the Mountaintop" speech.
Alongside these trainings, prominent journalists, academics, community leaders and subject experts are joining a three-day Mountaintop Conference featuring panels on criminal justice reform, minority youth education, the future of American workers and the intersection of labor, faith and civil rights.
"I AM 2018 isn't just a reflection on the past; it's a call to action for the future. Dr. King and the Memphis strikers knew that you can't achieve economic justice without racial justice," said AFSCME President Lee Saunders. "And yet, 50 years after Dr. King›s Mountaintop speech, working people are still fighting those same fights. We›re embarking on a historic partnership with COGIC to build and grow a network of trained, energized activists, connecting our generation›s struggles with the unfinished work of the heroes of Memphis: Dr. King, the Memphis strikers and the faith leaders who stepped up together to bend the moral arc of the universe towards justice.
"On the evening of April 3, 1968, Dr. King stood in the pulpit of Mason Temple and declared 'We, as a people, will get to the promised land.' Less than 24 hours later, he was killed on the balcony of the Lorraine Motel. This year marks the 50th anniversary of that watershed moment," said COGIC Presiding Bishop Charles E. Blake Sr. "In April, together with AFSCME, we are telling the world that it must come together to fight poverty and prejudice and advance the freedom of all people as we never have before."
"I AM 2018" events in Memphis began on April 2 -4 and include(d):
April 2 & 3 - Dream Corp Activist Training, @Mason Temple, 930 Mason St.
April 2 - Mountaintop Conference Day 1 @Mason Temple: Opening remarks were made by COGIC Bishop Charles Blake, Sr. and AFSCME President Lee Saunders. Also, panel discussions featuring Ambassador Andrew Young and American Federation of Teachers President, Randi Weingarten, among others were held.
April 3 - Mountaintop Conference Day 2 @Mason Temple: Panelists included actor Danny Glover, 1968 Memphis Sanitation Strike organizer, William Lucy, several original 1968 Strikers and TV ONE news personality Roland Martin.
April 3 - Youth Town Hall @Greater White Stone Missionary Baptist Church, 912 S. Wellington, St.: Among the panelists were actor Hill Harper and journalist Angela Rye.
April 3 - Mountaintop Speech Commemoration @Mason Temple: Among the featured speakers were Martin Luther King III, Dr. Bernice King, Bishop
Blake and AFSCME President
Saunders.
April 4 (8:00 am to 11:00 am) - 1968 Striking Sanitation Workers Kick-Off Rally @AFSCME Local 1733, 485 Beale St.: Performers and speakers include, Common, Sheila E., MC Lyte, NAACP President & CEO, Derrick Johnson, Bishop Blake and AFSCME President Saunders.
April 4 (11:00 am to 12:00 pm) - 1968 Striking Sanitation Workers
Commemorative March to Mason Temple.
April 4 (12:00 pm to 1:30 pm) - 1968 Striking Sanitation Workers
Culminating Moment @Mason Temple: Featured speakers include Rev. Al Sharpton and Rev. Jesse Jackson.
April 4 (2:00 pm to 5:30 pm) - Urban Initiatives Training @Mason
Temple. Over the past few weeks, activists, elected officials, students, workers and other leaders in the "I AM 2018" campaign have been organizing and building support for their work this year and beyond. On February 1, more than 70 cities observed a coordinated Moment of Silence to honor Memphis sanitation workers Echol Cole and Robert Walker who were crushed to death in 1968 and sparked the strike of 1,300 fellow workers that brought Dr. King to Memphis.
On February 24, two days before the Supreme Court heard oral
arguments on a case that could threaten workers' rights, thousands of working people, civil rights, labor leaders and families flooded the streets of every major city to demand freedom from want and hate and call for the U.S. to unrig its broken political and economic systems. Since then, college students and other young filmmakers have been submitting videos that
connect Dr. King's fight for justice to today's movements for social change.
The winning submissions, judged by Hans Charles, Dorian Parks, co-founder of Geeks of Color, and award-winning filmmakers Madeleine Hunt Erlich and Shahin Izadi were screened at Mason Temple on April 3rd.
---