Skills for Chicagoland's Future Celebrates Five Years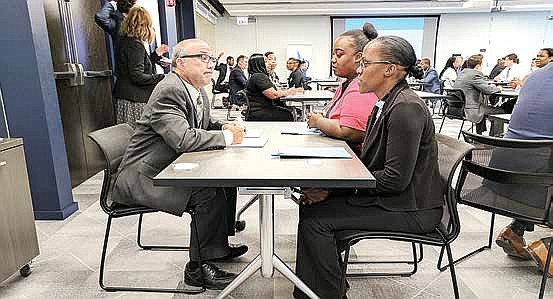 ---
Skills for Chicagoland's Future Celebrates Five Years
By Christopher Shuttlesworth
Skills for Chicagoland's Future, a public-private partnership located at 191 N. Wacker Drive, recently celebrated the job-placement of more than 4,500 Chicagoland job-seekers since Skills launched five years ago. Over 80 percent of the job seekers that Skills placed in 2016 were African American.
Almost, 34 percent of job-placed candidates were from Chicago neighborhoods with unemployment rates of more than 10 percent, according to a Skills press release. Some of the neighborhoods were Auburn-Gresham, Austin, Chatham, South Shore, South Chicago, West Garfield Park, West Pullman, Roseland, Woodlawn and Avalon Park.
Skills also recently announced the results of a two-year independent study, which quantified Skills' long-term economic impact on job seekers and tracked their like earnings and employment status.
One finding highlighted that job-seekers who were hired through Skills earned, on average, $6,120 more per year than the comparison
group, according to a Skills press release.
Cherita Ellens, vice president of Business Operations and Communications at Skills, said the organization tested multiple job models, but their current model in terms of being more demand driven in learning about employers' needs first became more effective in the hiring process.
"We work with the employers as our clients first because they're the ones with the jobs," Ellens said. "We want to start with the jobs and we have learned that by having these deep relationships with employers helps us become better advocates for the job-seekers."
She continued to explain that Skills' job model allows them to learn more about the culture of the job organization, which better helps them match job-seekers with the right organization.
She said while Skills analyzes employers first, they still take time to interview job-seekers before sending them to an official job interview.
"We coach them and make sure they understand what the companies are looking for," she said. "Some of the [job-seekers] have not interviewed in a long time so they're a little rusty or nervous because the interview means more to them than anyone would ever know."
Ellens said she advises all job-seekers to be "ready" for their interviews by having some background information on the employer and knowledge about the potential job role.
Since 2012, Skills organization has grown from working with five to 60 employers. They include the University of Chicago Medicine, Chase, Walgreens, CDW, Old Navy and O'Hare Airport.
For more information, you can visit https://www. skillsforchicagolandsfuture.com/.
---