Twenty-Seven-Year- Old African-American Breaks New Ground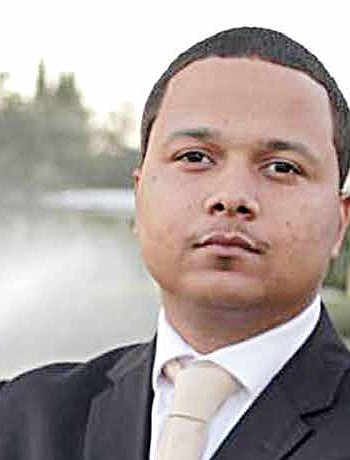 ---
Twenty-Seven-Year- Old African-American Breaks New Ground
Freddie Figgers, an American inventor, self taught
computer programmer, and entrepreneur,
who operates his own cell phone company,
Figgers Communications Inc., one of the nation's
fastest growing African-American-owned
telecommunications firms.
(Tallahassee, Florida) - At the age of 9,
Freddie Figgers' father, Nathan, bought him an old nonworking
IBM personal computer at a local Goodwill Store.
Figgers, in his attempt to fix it, took that computer apart five
times. On the sixth time, he got it working. He was thrilled -
and has since never looked back.
Now, the 27-year-old is founder and owner of Figgers
Communication, a privately held company that provides
cellular, mobile broadband, home phone and international
calling services. He is one of the youngest African-Americans to
receive an FCC license to operate a mobile company. In addition
to owning his own telecommunications company, Figgers owns
four patents with an additional two others pending.
Most recently, Figgers has developed a custom-designed
cellular phone, the "Figgers F1", that has gold trimming, high definition
display, dual SIM capability, multi-user capability,
automatic anti-texting functionality and super-fast charging.
Figgers designed and manufactured the Figgers F1 in the
USA for its 4G Voice over LTE Network, trying to capitalize off
the $420 billion mobile phone industry. "I'm using all of my
capital to learn and develop new ideas," said Figgers who has
self-funded his business from the start. "I'm reinvesting in this
business."
Figgers' entrepreneurial savvy began as a teenager. At age
13, he started working for the city of Quincy as a computer
technician and network administrator in its NetQuincy
department, setting up the city's network and helping residents.
At 16, Freddie started his first company, Figgers Computers,
repairing computers and installing wireless area networks. By
age 18, he created a cloud-based hosting network and his own
computer operating system.
Eager to launch his own mobile communications company,
Freddie designed a VOIP - Voice Over Internet Protocol
network - that transmits voice to and from the USA from
more than 80 countries' landline and mobile connections. He
achieved another milestone in 2011, when the company received
approval from the FCC to own a spectrum, leading to the
construction of the company's first cellular tower.
"I've had a pretty good life," said Freddie, who was raised
by his adoptive parents in Quincy, Florida, located just outside
of Tallahassee. "My parents really supported me . . . I am
continuing to be innovative because I know that's how I can try
to stay ahead of the competition."
---