MARTIN LUTHER KING III HONORED WITH 2017 LIFETIME LEGACY AWARD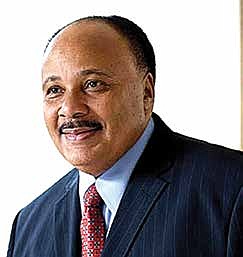 ---
MARTIN LUTHER KING III HONORED WITH 2017 LIFETIME LEGACY AWARD
WASHINGTON/NNPA Newswire/—The National Newspaper Publishers Association (NNPA) honored Martin Luther King, III with
the 2017 Lifetime Legacy Award during the group's annual conference held on June 20-24 at the Gaylord Convention Center at the National Harbor in Prince George's County, Md.
As the oldest son of Dr. Martin Luther King, Jr. and Mrs. Coretta
Scott King, Martin Luther King III serves as an ambassador of his
parent's legacy of nonviolent social change. In 1997, King was elected as the fourth president of the Southern Christian Leadership Conference (SCLC) where he co-sponsored the 40th Anniversary of the historic March on Washington.
Following his service with SCLC, King founded Realizing
the Dream, which focused on redressing poverty by strategizing
with community organizers to ignite investment in the local
neighborhoods and foster peaceful coexistence within the U.S.
and internationally.
"For decades, more than anyone else, Martin Luther King III has continued to personify and represent the living legacy of Dr. Martin Luther King Jr. for freedom, justice and equality," said Dr. Benjamin F. Chavis, Jr., the president and CEO of the NNPA. King accepted the Lifetime Legacy Award on Friday evening (June 23).
On Tuesday, June 20, the NNPA kicked o¢ the conference with the
National Black Parents Town Hall Meeting on Educational Excellence
featuring radio personality and community activist DJ EZ Street; Hilary Shelton, the director of the NAACP's Washington Bureau; Dr. Marietta English, the president of the National Alliance of Black School Educators; and Lynn Jennings of Education Trust.
The conference also featured a panel discussion about the documentary "Pardons of Innocence: The Wilmington Ten"; a conversation with NNPA members who operate publications
that are more than 100 years old; and a presentation by the Nissan Foundation on 25 years of community service.
Dr. Chavis said that support of the NNPA's partners, sponsors and advertisers is critically important and appreciated. NNPA partners include: General Motors, Ford Motor Company, Reynolds America Incorporated, and the Bill & Melinda Gates Foundation.
The conference was sponsored by Volkswagen, Toyota, Nissan, Comcast, AT&T, Facebook, Macy's, Koch Industries, New York Life, Northrop Grumman, Coca Cola, AARP, Goldman Sacs, and Prince George's County.
---