3 WAYS TO CELEBRATE GWENDOLYN BROOKS ON JUNE 7
It's the literary legend's centennial, and the public is invited to read, share and experience her work
6/6/2017, 11:26 a.m. | Updated on 6/6/2017, 11:26 a.m.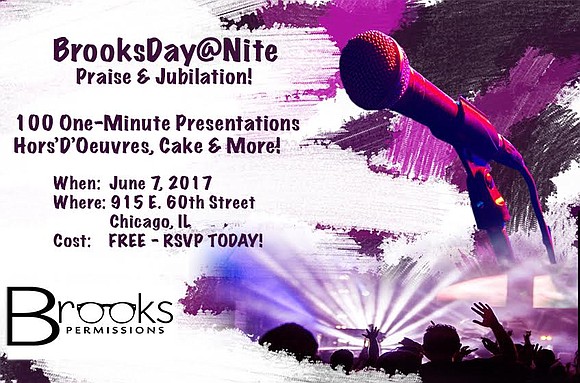 3 WAYS TO CELEBRATE GWENDOLYN BROOKS ON JUNE 7 It's the literary legend's centennial, and the public is invited to read, share and experience her work
Chicago, Ill. – June 7 marks the centennial birthday of Gwendolyn Brooks, the first Black person to ever win the Pulitzer Prize® and the Illinois Poet Laureate for more than 30 years. This special date is when writers, poets, historians and musicians will pay her honor – and the public is invited to join in on the fun. "We hope all of Chicago and people across the nation take a few minutes to speak her name, read one of her poems or even write one of their own as she would have loved them to do," said Nora Brooks Blakely, the only daughter of Gwendolyn Brooks and the president of Brooks Permissions, a licensing agency. To honor a woman often called one of the greatest writers of the 20th century, here are three things to do on Wednesday, June 7:
Read her work: You can easily find Gwendolyn Brooks' poetry on the internet and in books at your local library. The most recent anthology released in Brooks' honor is Seasons: A Gwendolyn Brooks Experience, which features thematic collections of her poetry and prose, photos, memories from family, friends, peers and mentees, and illustrations from the award-winning artist, Jan Spivey Gilchrist. Get started by visiting www.gwendolynbrooks.net.

Experience her with others: Reserve a free seat for BrooksDay@Nite: Praise & Jubilation, an evening of 100, one-minute presentations at the Reva and David Logan Center for the Arts. The event is presented in cooperation with such organizations as the Guild Literary Complex, Brooks Permissions, Third World Press Foundation and the Poetry Foundation. It begins at 6 p.m. at the Logan Center on the University of Chicago campus, 915 E 60th Street in Chicago. While tickets are free, reservations are recommended via http://brooksday.org/tickets/.

Share your interpretation: Gather online with other fans for Gwendolyn Brooks: The International Birthday Party. Using Facebook, Twitter, Instagram and other popular sites, select a Brooks' poem or use her work to address a theme in any art form – dance, drama, spoken word, music performances, visual art images or more. Share how she has inspired your expressionism.
About Brooks Permissions: Brooks Permissions was founded in 2001 as the official licensing firm for the literary works of Gwendolyn Brooks, who passed away in 2000. Brooks Permissions processes numerous requests for Ms. Brooks' works annually, working with mainstream, educational, and independent publishers, as well as individual artists for projects ranging from literary anthologies and academic course packs to theatrical performances, multimedia projects and more. The company also offers products and programming that shed more light on the life and works of Ms. Brooks. Brooks Permissions is committed to demonstrating the continued relevance of Ms. Brooks' work in the 21st century and beyond.