INTERFAITH LEADERS MEET TO DISCUSS PRESIDENT OBAMA'S LEGACY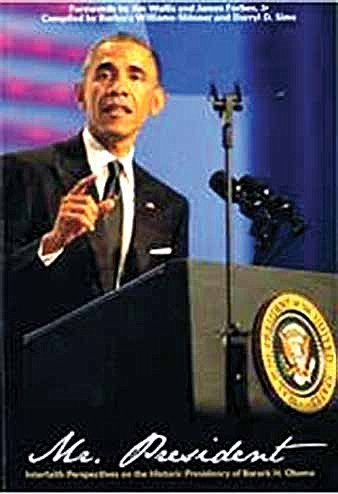 ---
INTERFAITH LEADERS MEET TO DISCUSS PRESIDENT OBAMA'S LEGACY
WASHINGTON, DC –President Barack Obama's Legacy was the
subject of a four-hour featured event at The National Press Club recently. Interfaith religious leaders from across the country gathered in Washington to attend the event and to discuss the
historic achievements of the first-black U.S. President. The event, which was sponsored by Sims Media Group, was held held in the National Press Club's Holeman Lounge at 529 14th Street NW, 13th floor, where the club's first black president, Jeff Ballou, and the
club's outgoing president, Thomas Burr, welcomed guests.
Twelve prominent leaders selected from the 84 who contributed to the book, Mr. President, which Reverend
Darryl D. Sims and Barbara Williams- Skinner compiled on the Obama years, were invited to participate. One of the goals of the event was to offer a lively mix of ideas from different faiths on
what needs to be done to preserve Obama's legacy.
"There is no doubt that becoming the first black President of the United States of America is Barack Obama's
greatest legacy," The Reverend Sims said during an interview. "His
remarkable success in office has delivered a significant blow to white
supremacists, committed to racial division."
Sims believes that for America to be a united country, it needs to grapple with the race issue and find ways to work together with
the President-Elect to protect the gains President Obama made during his two terms in office.
Twelve leaders who contributed to the newly published book Mr. President, spoke at the club and shared their views on how this can be done. They each represented diverse ethnic and religious backgrounds, and presented insight on the matter. Participants in the
discussions included: Rev. Dr. Amos C. Brown, Senior Pastor of the
Third Baptist Church, San Francisco; Bishop Anne Henning Byfield, religious leader and author; Suzan Denise Johnson Cook, presidential advisor, pastor, theologian, author, activist, and academic; Obery M. Hendricks, Jr., professor of biblical interpretation, New York Theological Seminary; Bishop Shirley Holloway, founder of House of Help City of Hope, Washington, DC; Dr. George Holmes, served and assisted three White House Presidents as clergy; Jim Wallis (James E. Wallis Jr.), Christian writer, political activist, and founder and editor of Sojourners magazine; Rev. Matthew Lawrence Watley, Executive Minister of Reid Temple AME Church; Glenn Dale, MD; Gabby Cudjoe Wilkes, Yale Student, Master's of Divinity program; Minister Leslie Watson Malachi is the current director of African American Religious Affairs
(AARA) for People for the American Way and People For the American Way Foundation; Tyrone P. Jones IV has been pastor of the historic First Baptist Church of Guilford in Columbia, MD.; Dr. Barbara Williams-Skinner, president of Skinner Leadership Institute, which she confounded in 1992. The Skinner Leadership Institute was formerly known as Tom Skinner Associates, where she was
Vice President from 1981 to 1992.
Previously, she was Executive Director of the Congressional Black Caucus from 1974 to 1981, where she helped to found the annual Congressional Black Caucus Foundation Prayer Breakfast. Dr. Williams-Skinner received a B.A. from San Francisco State University, an M.S.W. and J.D. from the University of California at Los Angeles, and a Master's of Divinity and a Doctorate of
Ministry from the Howard University School of Divinity and Darryl D.
Sims, nationally recognized as being a conduit for providing spiritual and social renewal for black men by using workshops around the country to empower and heal them. Through schools and other organizations, he has offered assistance in conflict resolution, academic achievement and enhancement of racial pride.
Licensed to preach, he earned a Master of Divinity degree from Howard University School of Divinity in 1999. Sims is the editor of numerous books of sermons by prominent black ministers and the author of his own book entitled, Adam Come Home:
Liberating the Minds of Black Men. He is currently CEO and publisher of Sims Media Group, and a Ph.D. candidate
in Ethical and Creative Leadership at Union Institute & University.
---