HIDDEN FIGURES HIGHLIGHTS STELLAR ACHIEVEMENTS OF BLACK WOMEN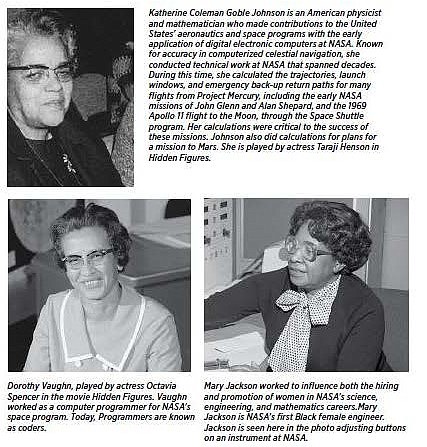 ---
HIDDEN FIGURES HIGHLIGHTS STELLAR ACHIEVEMENTS OF BLACK WOMEN
By Safiyyah P. Muhammad
Since Hidden Figures hit the box office last December, there is a buzz of excitement in the air from audiences everywhere who've flocked to theaters to see the true story of three highly intelligent black
women who helped launched John Glen into orbit.
As African Americans celebrate Black History Month, it's a story fit for people of all ages and races, and is a movie that successfully documents the achievements of black women in the STEM fields.
Although a well-kept secret at NASA until now, the story highlights the outstanding achievements
black women made in NASA's space program at the height of the Civil Rights era.
The film is about three women employed at NASA, assigned to perform complex mathematics by hand, thus earning the name "human computers."
Katherine Johnson (Taraji Henson), Dorothy Vaughn (Octavia Spencer) and Mary Jackson, (Janelle Monae) were NASA's human computers.
Their gifted and talented mathematical skills as math geniuses and coders a"orded them the ability to calculate by hand, mathematical calculations that dealt with lift-o", propulsion, and trajectories. Reports suggest that dozens of women served as computers during NASA space program.
"It is a film for everyone regardless of age, gender or race, and e"ectively illustrates the power of the human mind and spirit," said Fox domestic distribution president Chris Aronson, in a 20 Century
Fox press release. "In these challenging times, its life-affirming message comes along at a perfect time."
The movie depicts how the women handled racism and segregation. In real life, however, due to segregation laws, reports states that African-American female computers at NASA had to work
in a separate "colored" building at the Langley Research Center where NASA's space program was housed.
There is a scene where Henson has to walk to a segregated bathroom, which takes her 40 minutes to get across NASA's huge campus. When she returns, Henson's boss, Al Harrison, played by
Kevin Costner asks her, where did she go? Henson responds by explaining with dignity where she had gone and how she has to keep dealing with racism and bigotry.
Kevin Costner said in a 20th Century Fox interview seen on YouTube, "Color went away when John Glen would ask engineers to go and get the smart one" (speaking of Katherine Johnson)."
The film also showed that if you desire to make a change, you have to be the change maker.
Sometimes standing up might means standing alone, and that's what Mary Jackson did when she wanted to enroll in NASA's engineering program. In the film, Jackson petitioned her attendance at the
school by taking it to court. The program was in an all-white school, which meant that Blacks were barred from classes. After Jackson stands up for herself in court, the judge eventually rules in her favor.
Hidden Figures is a feel good movie that inspires everyone.
The movie is directed by Theodore Melfi and Allison Schroder and is based on the book, Hidden Figures by Margot Lee Shetterly. Other Hidden Figures
actors include Kirsten Dunst and Jim Parson.
According to Box Office Mojo, since its debut, the film has grossed more than $61 million dollars so far.
---