JOURNALIST, COMMUNITY ACTIVIST SUE CPD
8/23/2017, noon | Updated on 8/23/2017, noon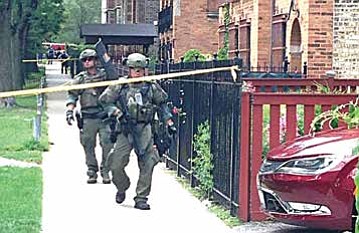 JOURNALIST, COMMUNITY ACTIVIST SUE CPD
By Christopher Shuttlesworth
Independent Journalist Sarah Lazare and Community Activist Debbie Southorn sued the Chicago Police Department (CPD) on Aug. 7, after CPD reportedly failed to send them complete records of Chicago SWAT deployments responding to mental health crises.
Lazare filed a Freedom of Information Act (FOIA) request on April 15, 2017 for "all formal and informal critiques and incident logs for SWAT incidents from Jan 1, 2009 to December 31, 2013," according to a Cook County Circuit Court document. But after multiple FOIA requests, CPD reportedly only sent some of the SWAT responsive records and reportedly failed to include Hostage Barricade Terrorist (HBT) logs from 2009-2012.
Lazare explained that the complete records of SWAT logs are important because SWAT response to mental health crises and the complete logs can help determine how frequently SWAT responds to mental health crises.
Since 2012, half of Chicago's 12 mental health clinics have closed and the remaining six have been privatized, according to a Loevy & Loevy Attorneys at Law press release.
Lazare and Southorn wrote in an article published by The Intercept, "Since 2013, Chicago police have deployed SWAT teams at least 38 times
to respond to mental health incidents and suicide attempts," as revealed
by records produced in response to a previous FOIA request.
Some of the recent civilian killings by Chicago's police included Laquan McDonald, who was diagnosed with post-traumatic stress disorder. Other killings included Northern Illinois University (NIU) student Quintonio LeGrier, who was involuntarily admitted into a psychiatric hospital, and Michelle Robey, who was diagnosed with bipolar schizoaffective disorder, according to attorneys at Loevy & Loevy.
"People are dying and people are seeing they're quality of life eroding
as a result," Lazare said. "Now, you have people caught in the cross care of
cuts and facing violence by law enforcement."
Lazare continued to say that Chicago needs to build a society that doesn't respond to public health problems with punishment and oppression, but instead with mutual aid to provide everyone's needs.
"I think this comes down to what type of society do we want to live
in," she asked? "Do we want to live in a society where we provide for the
health care needs of all people, especially ones who are marginalized, vulnerable and oppressed? Or do we want a society that is increasingly
becoming brutally heavy handed in police responses to problems that are
public health problems?"
Attorney Joshua Burday along with Loevy & Loevy attorneys, said
they are waiting for the city of Chicago to confirm the official court date.
"The public has the right to know how police force is being used and
how it's responding to mental health incidents," said Burday.
Lori Lightfoot, president of the Chicago Police Board, declined to
comment on the pending lawsuit.
Lazare said she plans to keep the focus on the SWAT deployment
and mental health crises in the public's view in order to help local community organizations receive justice from the Chicago Police
Department.