MELVIN KING, AN ARTIST ON A MISSION Church inspired scenes become the focus on artists' work
4/26/2017, noon | Updated on 4/26/2017, noon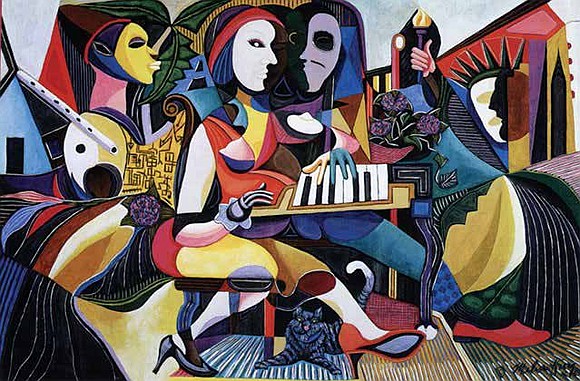 MELVIN KING, AN ARTIST ON A MISSION Church inspired scenes become the focus on artists' work
By Christopher Shuttlesworth
"The Preservation of Affordable Housing (POAH), which is a mission-driven affordable housing nonprofit, hosted a free opening reception for 'The Work of Melvin King: A Chicago Experience' on April 14, from 6 to 9pm at the William Hill Gallery, located at 6144 South Cottage Grove," according to a POAH press release.
King, who began his passion as an artist at ten years old, said he didn't know any Black artists at the time. But King said he began to get heavily attached to artwork by White artists like Clifford Lee, Pablo Picasso, Paul Kee and more.
"I used to go to a lot of art fairs when I was young," King said. "My teachers used to take me, but they were basically all white shows. I didn't know any Black artists and when I went on the Northside to the art shows I became attached to it. And it was something that I wanted to do."
King, who was also raised in church, said he would witness and minister to people outside of the church about Jesus Christ.
"I start using my art work as a way to get the word of God out," King said. "I started the artwork and painting as a hobby.
I didn't know it was really worth anything…it was something that I was doing as a passion. But then a lot of people started asking me to bring my artwork to their studios and galleries, mostly White people."
He said as his artwork began to flourish in the industry, he began to wonder how he would balance his passion as an artist and his ministry to God's people.
"I said now how I'm going to have time to witness to
people on the streets," King said.
"Well, I'm going to start putting my messages of God in the
paintings. That's what the Lord showed me."
King said through his new found religious paintings, many people and religious organizations were blessed and
became even more intrigued by his artwork.
"On the other hand some other organizations didn't want
anything about Jesus and they made that clear to me," he said.
"Matter of fact, some of them wanted me to take the name of Jesus out of the paintings. That's when I found out that everyone is not a Christian. But Moody Bible Institute, universities and different churches became very interested."
King explained that he became attached to painting church scenes by consistently going to churches and looking around at the scenery and watching the people and noticing the outfits they wore.
"I became attached to church scenes because I could witness to people through my paint and brush," said King.
He decided to have his art displayed in the Chatham neighborhood. "I think it's something that we've been missing out on," he said. "I found out that there are so many young Black artists who never had anybody to encourage them to do art. I feel that the Lord has chosen me to be one of the people
to open up the venue for Black artists, young and old," he said.