FIFTH THIRD BANK HONORS COMMUNITY LEADERS
5/25/2016, 2:05 p.m. | Updated on 5/25/2016, 2:05 p.m.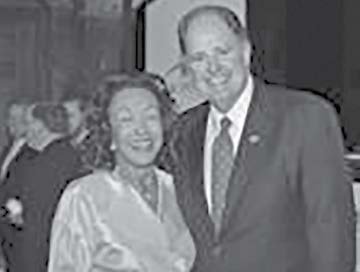 FIFTH THIRD BANK HONORS COMMUNITY LEADERS
Fifth Third Bank recently honored eight diverse leaders in the community at its 6th Annual 2016 Community Leaders Award Breakfast. The event was held at the Chicago Cultural Center located on 78 East Washington. Over two hundred community leaders attended the event. The eight leaders will receive a donation of $5,300 each to be used on a charity of their choice. Those chosen to receive awards, represented the Fifth Third Bank employee affinity groups. Awardees included recipients from the African- American, Latino, Asian American-Pacific Islander, LGBTQ, Veteran's, and Women's categories. There were also recipients from the Non-Profit of the Year and Entrepreneur of the Year categories.
Recipients of the 6th Annual Fifth Third Bank Community Leaders Award Lori F. Cannon – LBGTQ Community Leader – Over 25 years ago during the height of the AIDS Crisis, Cannon founded the city's only food pantry and grocery center for those affected by HIV/AIDS at a time when people with AIDS were considered lepers and faced incredible discrimination. Cannon was soon overseeing an army of 400 volunteers who would show up seven days a week to deliver meals to 1200 people who were suffering from AIDS. Cannon is donating $5,300 to the Open Hand's food budget.
Julie Smolyansky - Women's Community Leader - Becoming the youngest female CEO of a publicly held firm when she took over Lifeway Foods at 27, Smolyansky has since boosted annual revenue to over $130 million and expanded distribution throughout the US, Canada, and the UK . She has produced several documentaries, including one on three homeless teens, one on issues facing women in Muslim societies, and one on rape culture on college campuses. She founded the nonprofit organization Test400k, a campaign to resolve the backlog of 400,000 untested rape kits in the U.S. and end violence against women both domestically and globally. Smolyansky is donating $5,300 to Test400K, the non-profit she started. One of the goals of the organization is to work to eliminate the backlog of the 400,000 untested rape kits in the U.S.
Danielle L. Green – Veterans Community Leader - Danielle Green inspires others through her story. She grew up poor on Chicago's South Side and earned an athletic scholarship to Notre Dame, then joined the Army. She lost her lower left arm in a rocket-propelled grenade attack in Iraq and now serves as a Field Examiner for the Department of Veteran Affairs. Green will donate $5,300 to U.S. Department of Education's TRIO Programs, which is designed to ensure equal educational opportunity for all Americans, regardless of race.
Billy Dec - Asian American, Pacific Islander Community Leader - Billy Dec was appointed by Barack Obama to serve on the US Asian American, Pacific Islander Committee where he continues to give leadership to issues impacting this community. He's a role model for many biracial youth, helping to address issues impacting them like bullying, discrimination, etc. Dec is splitting his donation of $5,300 up between two groups: One Step Camp and Asian Americans Advancing Justice – Chicago.
Shelia C. Morgan – African American Community Leader – As leader of the Chicago Minority
Supplier Development Council, Morgan is leading and inspiring new business opportunities for local African-American owned businesses. She also hopes to stem the tide of senseless gun violence in the community. Morgan is donating $5,300 to the Chicago Defender.
Omar Duque - Latino Community Leader - As the head of the Illinois Hispanic Chamber of Commerce, Duque is leading the way for the communities benefit by helping to inspire new businesses and legislative representation. Durque is donating $5,300 to The Center for Hispanic Entrepreneurship, which he helped found. The funds will be used to help build the entrepreneurship pipeline in the Hispanic community through their youth entrepreneurship program ENTERpreneur.
Kathleen Henson – Entrepreneur of the Year - Henson Consulting is donating $5,300 to Breakthrough Urban Ministries, which works to restore the broken networks of youth and families and empower adults in the community to achieve self-sufficiency and break the cycle of poverty.
YWCA Metropolitan Chicago - Non Profit of the Year - Led by Dorri McWhorter, CEO, YWCA, continues to foster new pathways and opportunities for women throughout the Chicagoland area.