Prominent South-African artist paints street mural in Hyde Park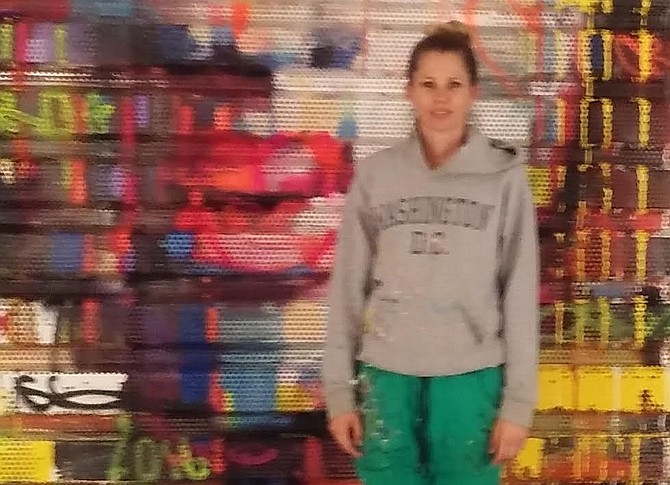 ---
Prominent South-African artist paints street mural in Hyde Park
By Safiyyah P. Muhammad
To celebrate its January 2017 grand opening at 1447 E. 53rd Street, Nando's "Peri Peri" South-African Portuguese restaurant recently commissioned Kilmany-Jo Liversage, a famous South-African mural painter to paint an oversized graffiti mural (10 ft. high by 36 ft. wide) on the inside of the new Hyde Park Restaurant.
Nandos, which first opened in 1987 in Rosettenville, South Africa, is famous for its spicy flamed-grilled chicken, with Peri Peri sauce (made with African-Bird Eye chili), according to Nando's website.
To her credit, the famous Cape Town artist has painted five murals for Nandos Restaurant including restaurants located in Washington, D.C., Chicago, Virginia, Canada, and Dubai, Saudi Arabia.
"About ten years ago, I was part of a group of artists in Cape Town who made blocks of arts for this little company. These blocks were bought by Nandos to exhibit in their restaurants. From there, Nando's followed me throughout my career and expressed an interest in my artwork. Every exhibition I had, they bought artwork of mines, and displayed my artwork in their restaurants," Liversage said.
Liversage pointed out that an owner of a Cape Town art gallery taught her the value of how to work with canvas, which added value to her art work. "World Art put me on the map when it came to working on canvas. The gallery hosts a show for me every two years, and I attend art fairs throughout South Africa."
"As an artist, when I paint a mural, my most important thing is to make a very strong, powerful image, using bright colors, while highlighting the image of the subject matter, which is primarily, 'the woman.' I'm an artist, not a street artist, so for me, when a person walks past, I don't want them to see my work as graffiti, but see it as artwork. There are markings, different tags, and color found in the murals. Everything is articulated and found in a unique place. Everything has a reason for being there. That is what I think of when I do my artwork. " Liversage said.
Liversage discussed her international art residency through the funding of The United Nations Educational, Scientific, and Cultural Organization (UNESCO) in Columbia, South America and how that experience help launch her urban street art.
She said, "Through (UNESCO), I did a residency in Medellin Columbia in 2005 (for three months), where several artists and I painted a wall at Medellin Botanical Gardens. I used a little bit of spray here and there in what I did, and they said, 'Hey look, we are going to put you on murals' and from there, I began making murals and creating art out on the street. I realized that I love this."
According to Liversage, her father worked as a fiberglass maker, and her mother was an employee at a local university. She stated that the biggest inspiration that she has is her parents' insight of her becoming an artist. "My parents realized that I had a talent for art at an early age and they placed me under a talented art instructor, who taught me how to draw and make small sculptures at the age of 8. All of my sisters and brothers are architects and doctors, but for me, watching my dad work with his hands was the most amazing thing. I just knew that this is what I was going to do when I grew up. I studied art and got a degree in art. Art is my strong point."
Liversage was a young girl during the dismantling of the Apartheid Era in 1994. "I came from a city in Cape Town called Bloemfontein, where Aparthied was very strong. During the end of the Apartheid Era (in 1994), I was a young girl. I have a sense of protest within me that comes from that time and obviously my parents teaching me that this (Apartheid) is not right. My subject matter is women, and I do have a feeling of protest when it comes to injustices for women, and I understand the struggle of women issues like AIDS and abuse. I use injustice (against women) as a message in my work. I do show that in specific works."
To learn more about artwork by Kilmany-Jo, log on to www.kilmanyjo.com.
---