'Blacknificent Mile' becomes focus on 79th Street
12/13/2016, midnight | Updated on 12/13/2016, midnight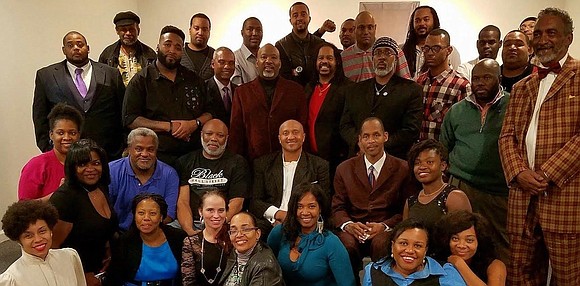 'Blacknificent Mile' becomes focus on 79th Street
By Safiyyah P. Muhammad
In memory of an economic development pioneer who advocated for black economics, Project 5,000 dedicated the recent grand opening of the BIZ BOP (Building Our Prosperity) business center located at 642-644 E. 79th Street, to Dr. Webb Evans, a black Chicago economist remembered for his 'buy black' advocacy.
"One of the reasons we chose Dr. Webb Evans is because he dedicated his life on the premise of, 'buy black, love black and support black businesses.' The first time I met him, he put a dollar to his forehead. I asked him how his day was going and he said to me, "It's is going better now," and it was there that I realized that the black dollar was on his consciousness. So, when we thought about doing the business center, we wanted to do it in the spirit of his 101-year-old legacy of being committed to the struggle of our people. It is through his spirit I believe that we can galvanize the necessary resources, the political and economic muscle to rise and have our standing in the world," said Ro Davis, Executive Director and Founder of Project 5000.
According to Revin Fellows, community outreach and research development coordinator for Project 5000, the BIZ BOP center has broadened new concepts and ideas for the 79th Street Business District. "There are miles and miles of black businesses extending from 79th & Cicero to the lakefront. We are now claiming that area as the "Blacknificent Mile."
Davis stated that the vision of the state of the art business center is to develop a class of entrepreneurs and professionals who are committed to redeveloping underserved business communities.
"What we recognize is that business owners need access to resources and information to develop their businesses. We are expecting a huge impact because we believe that black businesses are the answer to black unemployment."
Davis' is also founder and CEO of Project 5000, which is a homeowner initiative designed to help residents in becoming a homeowner and to create job retention for unemployed youth.
"The vision of Project 5000 is to create 5000 safe and affordable homes in the greater Chicagoland area. We are calling experienced African-American developers, contractors and entrepreneurs to the table to partner with them and offer them the necessary resources, be it intellectual capital or fiscal capital so that they can participate in this effort. We need an army of developers to redevelop our communities."
Davis pointed out that work is plentiful in the black community and Project 5000 serves as a component to employ the unemployed. He said, "We have enough work to keep the community working for the next hundred years. We have to commandeer change. We must be at the forefront of progress. I don't believe it is the job of our government to create jobs. I believe that it is the job of the government to help us with our vision. With the homeownership initiative, we can create significant jobs, because the average house creates about ten new jobs per house."
"The goal of Project 5000 is to buy and sell 30 properties. We are well into that number. We are at about 20. I'm willing to hire black contractors who hire our people. That's the trade-off."
Davis added that Project 5000 role is to assist the new homeowner with closing costs and also see that the homeowner is enrolled in educational programs designed to make buying a home less complicated.
"We are structuring the closing cost and the down payment where people can come to the table with $1,000 down and obtain what we call 'a signature home.' Part of the financing for the down payment comes from working in conjunction with the city. The city has a program to offset the closing cost for people who are buying homes. We are working with people to overcome the down payment and education process called the homebuyers program."
Davis also stated that Project 5000 has a Go Fund Me page to help offset the cost of office furniture and equipment for the business center.

To donate and learn more about the Go Fund Me page, please go to Davis' website by logging on to www.AskRoDavis.com.