Chicago Native Captains Only HBCU Division I Lacrosse Team
11/18/2015, 2:15 p.m.
The upcoming 2016 season will be the first for Hampton University's lacrosse team as a member of the NCAA Division I tier. The team that initially started out as a club team, will be captained by a native of Chicago's Hyde Park neighborhood.
Midfielder Jeremy Triplett, a senior and marketing major, had never heard of lacrosse, despite attending college in a part of the country where the sports in prevalent.
"One of my best friends from Baltimore came into my room…threw it [lacrosse stick] on my bed. I had never seen lacrosse or heard of lacrosse," Triplett said. "My friend told me the school just started a lacrosse team and told me to come out."
Triplett, who played football, baseball, along with cross country running track in high school at Chicago's De La Salle Institute said that those sports helped him to rapidly learn how to play lacrosse.

"I said to myself, 'I played sports all throughout high school, so I'll check it out,'" Triplett said. "After the first practice, I was one of the most athletic guys out there. It was my first time picking up the stick and I grasped it after a couple of practices. I stuck with it."
Triplett, one of three team captains, joined the Hampton University club team in 2011 before moving up to the varsity team.
"Lacrosse is a lot of hand, eye coordination. Throwing the ball with the stick," Triplett said. "It was something I had to get accustomed to. We had some guys who had never played before and we had some guys who played on the club team."
Hampton University, located in Hampton, Virginia, also added women's soccer earlier this year.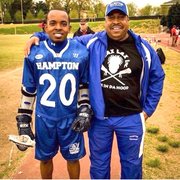 Hampton is now home to the first HBCU (Historically Black College and Universities) Division I lacrosse program since Morgan State University dropped theirs in 1981. Triplett's coach, Lloyd Carter, was a member of the Morgan State Bears Lacrosse team. Triplett also said that his coach encourages him to keep the history of Black lacrosse clubs in mind while playing.
"He tells us that we have a legacy to uphold. To build a place for African-Americans in an upcoming sport," Triplett says. "If you would have told me that four years ago, that I would be the captain of a Division I lacrosse team, I would have laughed at you."
Coach Carter said that Triplett showed leadership skills from day one.  
"When we first started the club team, he was one of the guys who never played. I can't recall him ever missing a practice. He was dependable and he progressively got better," Carter says. "I remember when he didn't get playing time he complained about it. Due to him coming to practice, his stick skills have gotten a lot better."
Carter added that Triplett was the president of the club team before he was named team captain.
"He's not a quiet leader. He leads by example and he fit the mold of whom I wanted in terms of leadership. Jeremy was a perfect fit. He deserved it. He put in work."
Triplett, the youngest of three children, says he has a job lined up with Accenture, a management consulting company after he graduates. He wants to let other African-American kids know that lacrosse is a sport that they can try other than football and basketball.
"We can as African-Americans thrive and takeover this sport. I'm going to try to start an African-American lacrosse program in order to spread and expand the sport for African-Americans," Triplett said. "A kid that's playing Division II or III football could easily get a scholarship in Division I lacrosse. That could be the way to get to college."
Triplett says that many of his classmates were largely unaware of the sport much like he once was.
"A lot of them had never met a Black lacrosse player. They didn't think that Black kids play lacrosse," Triplett says. "It's eye-opening to them since lacrosse is mostly a white sport. Now they see African-Americans playing the sport. It's a sign that times are changing."
The Hampton University Lacrosse Team first game is January 30 against the University of Richmond.