Yoko Ono's SKY LANDING Art Installation in Jackson Park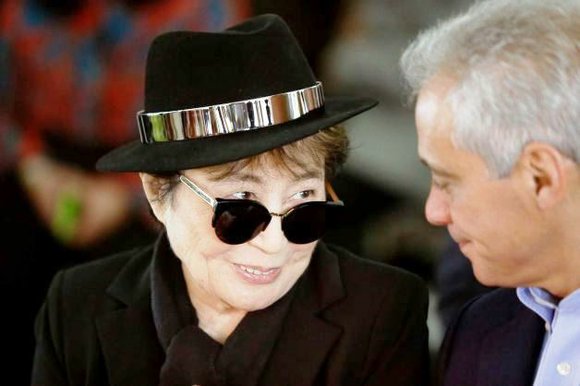 Celebrity artist Yoko Ono, 82, was in Chicago on Friday to announce the installation of a permanent piece of her art work titled SKY LANDING, in Jackson Park's Garden of the Phoenix, the first of her artwork installed in the U.S.
Inspiration for the artwork came about when Ono--the widow of Beatles legend, John Lennon--visited the park in 2013 for a cherry blossom tree installation.
"I recall being immediately connected to the powerful site and feeling the tension between the sky and the ground," Ono said in a statement. "I wanted the Sky to land here, to cool it, and make it well again."
Chicago Mayor Rahm Emanuel and Chicago Park District Superintendent Michael Kelly today joined Ono, representatives of Project 120, the Consul General of Japan at Chicago, the University of Chicago and others to announce the installation.
"Through the implementation of our successful Chicago Cultural Plan, we're able to offer residents and visitors growing access to the arts and culture in neighborhoods across the city, fostering economic and cultural growth," said Mayor Emanuel. "Great works of art enrich, enhance and elevate our public spaces, just like SKY LANDING will do for Jackson Park."
SKY LANDING is set to open to the public in June of 2016. The installation will become a place of congregation and contemplation and will be installed in harmony with the revitalized landscape of Jackson Park in northern portion of Jackson Park's Wooded Island.
"The City of Chicago was honored to receive such a gift from Japan at the time of the World's Columbian Exposition," said Superintendent Kelly. "Understanding our past and our relations today as global partners, we are privileged that the site, with the addition of SKY LANDING by Yoko Ono, will teach and inspire us and future generations who visit the Garden of Phoenix."
Installation of SKY LANDING is part of Mayor Emanuel's larger vision for Jackson Park, where an estimated $29 million in investments are planned for the park.

Other renovations to the park will include habitat restoration, landscape improvements, and tree plantings. Additionally, Project120 is leading a fundraising effort to restore the Jackson Park Music court, including a new 15,000 square foot pavilion to support music, arts and exhibition events. Renderings of the pavilion are attached.