Robbins Native Nichelle Nichols Credited with Recruiting Women, Minorities to Space Program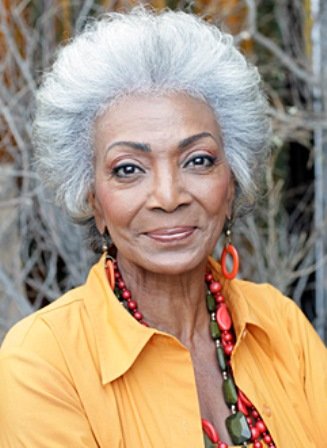 The National Aeronautics and Space Administration (NASA) space mission last week to the international space station was diverse: three crew members represented the U.S., Russia and Japan.
In the 1960's, space travelers were predominantly white American males.

Credited with helping to diversify the space agency is a former south suburban, Ill. resident, Nichelle Nichols, who starred on the popular television program, Star Trek.
"I feel very good about what I have done," said Nichols in a telephone interview with the Chicago Citizen Newspaper from her Los Angeles home. "Some of the people I recruited are some of the finest people."
Nichols recruited several key figures in the space program, including, Charles Bolden, the current NASA administrator, Dr. Sally Ride, the first American woman in space, Col. Guion Bluford, the first African-American astronaut and Dr. Mae Jemison, the first African American woman to travel in space.
"As a matter of fact, Sally called me to tell me that I was the way she had heard about the space program," Nichols said in a past media interview. "I was somewhat of a celebrity in their eyes. I had gone on television and in several interviews spoke of why they should be involved, and they took it up and said 'she's absolutely right.'"

Nichols, a Robbins, Ill. native, was one of the first black actresses to star in a television show in the 1960s. She portrayed Lieutenant Uhura on Star Trek.
In fact, when she planned to leave the show, the Rev. Dr. Martin Luther King, Jr. asked her not to resign, saying her character was important to blacks.
Nichols was on the original Star Trek television series from 1966-69 and in Star Trek movies.
Later, in the 1970's, NASA recruited Nichols to help diversify the space program mainly because Nichols had been outspoken about the fact that she didn't think the space program should be confined to only white males.
"Nichelle Nichols is a tireless champion for NASA, and has done so much to change the face of space exploration," said Sarah Ramsey, a spokeswoman for NASA.
These days, Nichols, 82, is recovering from a stroke she suffered in June.
She was at her California home when a rocket was launched last week for NASA's latest space project.
In 2017, she may possibly return to her hometown of Robbins when it celebrates its 100th anniversary.
Nichols was born in a home built by her grandfather. Her father, Samuel E. Nichols, served as Robbins mayor from 1929-31.
"I can't believe it has been 100 years already," Nichols said.