Mayor Rahm Emanuel and Local Ald. Break Ground for New Bronzeville Mariano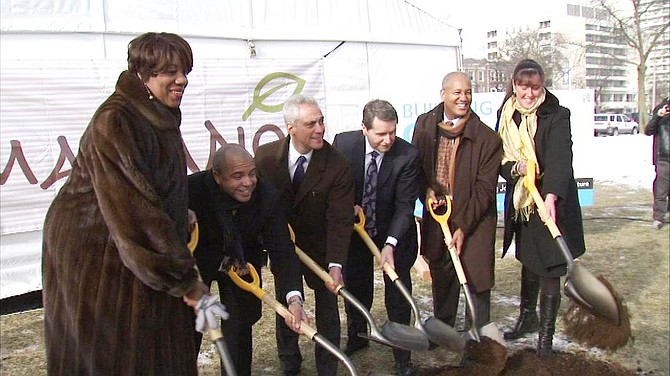 ---
Chicago Mayor Rahm Emanuel was in the Bronzeville neighborhood recently to break ground on the new Mariano's grocery store that's scheduled to open at the corner of 39th Street and King Dr. in 2016 with hundreds of jobs and new food opportunities for the area.
"This new store will create new jobs and provide an economic opportunity for Bronzeville and as importantly, it will also provide the opportunity that every family deserves to get healthy food in their own neighborhood," said Mayor Emanuel.  
Aldermen Will Burns (4th Ward); Pat Dowell (3rd Ward) and Bob Mariano, chairman and CEO of Roundy's, Inc., a leading Midwest grocer joined the mayor in the ground breaking ceremony.

Development of the new store, the first Mariano's to break ground on the south side, is expected to create over 200 construction-related jobs and 400 permanent jobs.   
To ensure the new 74,000-square-foot facility aligns with the architectural feel of the Bronzeville neighborhood, Mariano's is working with Phil Johnson of Johnson & Lee Architects, a Bronzeville resident who also designed the Ping Tom Memorial Park boathouse that opened in Chicago's Chinatown neighborhood in June 2013.
"At Mariano's, we make it our business to take care of people—that's why we're joining the Bronzeville community and are honored to be part of its revitalization efforts," said Bob Mariano. "I look forward to bringing the people of Bronzeville the same signature Mariano's experience that Chicagoland has come to know and love, including our fresh and affordable local produce, in-store dining offerings like Vero coffee, gelato bar and our world-class customer service." 
A joint venture between John Bonds from Safeway Construction and Chicago Neighborhood Initiatives, a community development organization that aims to strengthen Chicago-area low- to moderate-income neighborhoods, the new Mariano's will be built on land that sat vacant for several years. 
"I'm very excited that the Bronzeville Mariano's is moving forward," said Ald. Burns, "The project will create a great grocery store, and hundreds of construction and permanent jobs. This is the kind of development that we have wanted in Bronzeville for a long time." 
Mariano's is also working with the Chicago Cook Workforce Partnership to place Mariano's team members at various its Chicago and suburban Cook County locations. Additionally, Mariano's will continue its successful process of hosting career fairs in advance of the Bronzeville store's opening, welcoming both experienced and entry-level local candidates to meet one-on-one with recruiters and learn about opportunities to join the Mariano's team.
"I know I share the sentiments of all Bronzeville residents when I say how ready we are for this Mariano's to break ground," said Ald. Pat Dowell. "This community is thrilled to have a grocery store nearby that we can depend on for fresh and affordable food items—and to be a great community partner."   
---