Northeast Illinois Counties Fight Off Blizzard with State and Local Services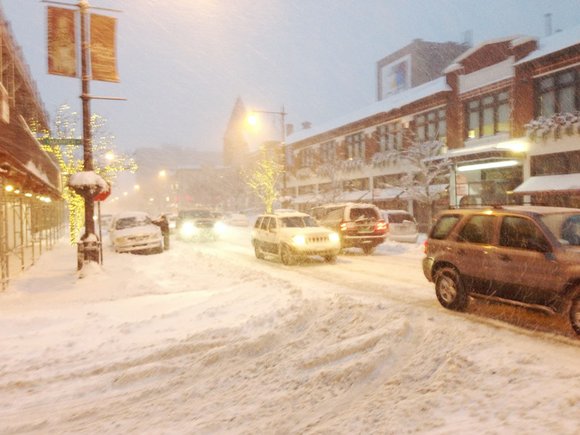 On the morning of Feb. 1, as many in the Chicagoland area were preparing for Super Bowl Sunday, the National Weather Service (NWS) released an urgent blizzard warning for the northeastern counties of Illinois. The announcement warned of snow accumulation ranging from 12 to 16 inches and as much as 18 to the wind gusts ranging from 20 – 40 miles per hour (MPH). Counties that were slated to be affected were: Cook, Will, Kane, DuPage, Lake, McHenry, Kendall, and DeKalb. To combat Mother Nature's icy wrath, several state and local agencies sprang into action.
According to NWS:
"A blizzard warning means severe winter weather conditions are expected or occurring. Falling and blowing snow with strong winds and poor visibility are likely. This will lead to whiteout conditions making travel extremely dangerous. Do not travel. If you must travel, have a winter survival kit with you. If you get stranded, stay with your vehicle."
In a released statement, the Illinois Department of Transportation (IDOT) cautioned motorists to be alert for slick roadways, take extra precautions while driving and to only travel if necessary.
"We are fully prepared to battle the elements and are ready to work to clear the roads for the traveling public," said Acting Illinois Transportation Secretary Erica Borggren. "Please help us by only driving if your trip is necessary and certainly don't drive if you've been drinking."
IDOT has dispatched upwards of 1,700 trucks and 3,700 employees to clear roadways. In addition, IDOT has been pretreating bridge decks and elevated driving surfaces that are susceptible to icing. IDOT cautioned motorists to give snow plow trucks appropriate space on the roads as they may not be able to see fellow motorists. The latest road conditions and road closures are available at www.gettingaroundillinois.com.
Illinois State Police (ISP) is asking motorists to plan accordingly and make safety a priority by driving at a safe speed, allowing plenty of distance from other vehicles to safely maneuver, ensuring vehicle lights are functioning properly, watching for snow removal equipment, and exiting the road to a safe location if driving conditions become too hazardous during a blizzard.
"Public safety is every driver's responsibility. Motorists should take every precaution, reduce their speeds and avoid unnecessary travel to help keep roads safe," said state police Col. Mike Zerbonia. "Avoiding distractions and keeping extra distance between vehicles will help when navigating through snow and ice conditions."
The Illinois Emergency Management Agency (IEMA) encourages travelers to have a vehicle emergency kit that includes water, snack foods, flashlight, blanket, extra warm clothing, sand or kitty litter, shovel, windshield scraper with brush, and booster cables. More winter weather survival tips are available at www.Ready.Illinois.gov.