Redevelopment of the Historic Rosenwald Building, Includes Relocation of Small Newspaper Vendor, 36% African American Workforce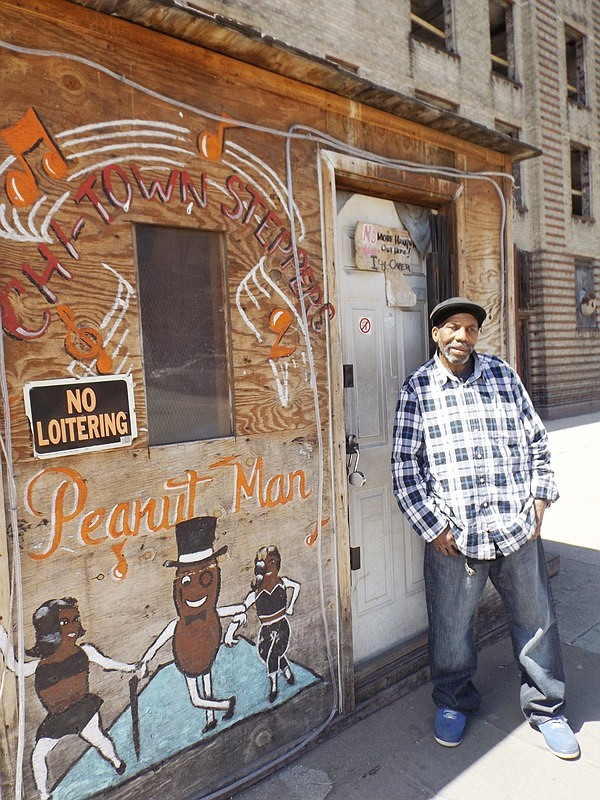 ---
As redevelopment of the historic Rosenwald Building located at 47th and Michigan Avenue, in Chicago's Bronzeville neighborhood gets underway, the small newspaper stand right next to it is being relocated to a yet unknown, nearby location. That may not be earth shattering news for some, given the grand scope of the Rosenwald project, but to those who buy their morning newspaper from the stand as part of their daily commute to work, it's kind of a big deal.
George White, 59, manages the news stand for his brother, Eugene Brown and a cousin.
"We've been at this location for 25 years and we do not like having to move," White told the Chicago Citizen Newspaper who paid him a visit last Thursday.
White's stand, one of the few remaining hut-like structures in the city, opens at 4:30 a.m. to receive delivery of two Chicago newspapers. With a steady stream of customers, he also sells a variety of beverages, magazines and peanuts, he said.
The Chicago Citizen Newspaper spoke with Chicago Ald. Pat Dowell (3rd Ward) about why the small business vendor is being moved.
"We just need to move George for now to make sure he's safe," Dowell said. "We have to do equipment staging…We're not sure if it's going to be a permanent move. We'll have to look at a permanent location for him if he doesn't come back to this one (the corner of 47th and Michigan Ave.).
When asked whether or not the developers would be willing to build a new stand that would complement the Rosenwald building, Robert Charles, Principal, Development & Capital Investment with Strategic Precision Management, Inc., who focuses on community engagement as part of the Rosenwald Development team, replied, "The Rosenwald Courts Development's position regarding the 47th Michigan Newspaper Stand, is that the relocation is necessary for the safety and access for the continued construction rehabilitation of the building. After completion we will revisit the issue and work with Ald. Dowell on possible solutions going forward."
Redevelopment of the five-story building, originally constructed in 1929 and listed on the National Register of Historic Places, will convert the 454-unit vacant building that covers an entire city block between 46th and 47th Streets between Wabash and Michigan, into Rosenwald Courts, with 239 one and two- bedroom units of senior and family housing—both market and affordable rates--with a two-acre professionally landscaped interior courtyard.
There will also be approximately 40,000 square feet of retail and office space along 47th street/Wabash Avenue and three parking lots on Wabash and Michigan offering residents and retail tenants 150 parking spaces.
The project's workforce includes 36% African American participation that includes people from the community.
"Ald. Dowell tasked us to ensure that we hire people from the area," Charles said. We also have 30 percent, Section 3 qualified workers. Section 3 is like Chicago Housing Authority (CHA) only it's for jobs. By accepting funding from the CHA on projects like the Rosenwald, we are required to adhere to the rules stipulated by 'Section 3'. Section 3 applicants can either be CHA residents or low income residents living in Chicago's Metropolitan Statistical Area.
The purpose of Section 3 is to make U.S. Housing and Urban Development-financed employment and economic opportunities, available to low-income residents. Thirty percent of all of new hires on projects with HUD financing must be Section 3 employees.
Originally built by Julius Rosenwald, who was inspired by educator and author, Booker T. Washington to create affordable housing with amenities in what was then a segregated community, the Rosenwald in its heyday, was managed by Robert Taylor and housed Quincy Jones, Nat King Cole, Duke Ellington, Jesse Owens, Gwendolyn Brooks, Joe Louis, and Ralph Metcalfe, among others.
An American businessman and philanthropist, Rosenwald is best known as a part-owner and leader of Sears, Roebuck and Company. He established the Rosenwald Fund, which donated millions in matching funds to support the education of African American children in the rural South. He was also the principal founder and backer for the Museum of Science and Industry in Chicago.
A joint venture of George Sollitt Construction Company, Powers & Sons, and Brown & Momen, are the general contractors on the project.
Financing for the project is principally provided by the City of Chicago, Citi Community Capital, Chicago Housing Authority, Two Rivers Bank & Trust, the federal historic tax credit, and Credit Capital/ The Richman Group.
The project has a summer of 2016 expected completion date.

---