Dancer Misty Copeland inspires new generation of ballerinas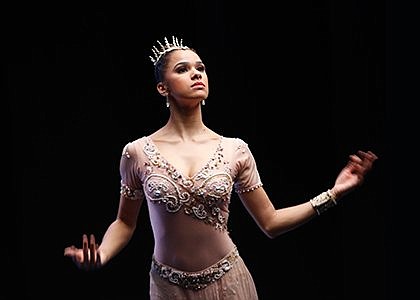 ---
"This is for the little brown girls," writes Misty Copeland in the prologue of her New York Times bestselling memoir, Life in Motion: An Unlikely Ballerina, which chronicles Copeland's turbulent life growing up as the fourth of sixth children to a single mom in a chaotic household in Southern California.
Despite the struggles and upheavals in her and her siblings' lives, Misty was able to find her voice and herself through her discovery of ballet. She came late to the profession — she was 13 when she took her first ballet class at the San Pedro Boys and Girls Club in California. Within three months she was able to stand en pointe (dancing on the tips of her toes).
Copeland, in fact, was more than a natural at ballet, she was considered a prodigy and within a year she began performing professionally. At age 15, Misty won the Los Angeles Music Center Spotlight Awards in California and caught the attention of several major ballet companies — including the Dance Theatre of Harlem, the American Ballet Theatre and the San Francisco Ballet.
After graduating from high school at 17, Misty accepted an offer from the American Ballet Theatre (considered America's top ballet company), to be a dancer in their Studio Company. Just two years later, she was promoted to ABT's Corps de Ballet. And in 2007 at the age of 24, she became only the second African American soloist in the American Ballet Theatre's history, and the first in more than two decades.
Inspired as a teen by famed ballerinas Gelsey Kirkland, Paloma Herrera, and Raven Wilkinson, whom she refers to in her memoir as "a guiding light in her life", Copeland is very grateful for the many individuals who have inspired and helped her along the way. "Ballet has given me opportunities that I wouldn't ever have had," says Copeland.
A mentor to young female dancers, she's also written her first children's book called Firebird in collaboration with Christopher Myers, an award-winning author and illustrator. The book, which is beautifully illustrated, tells the story of a young girl whose confidence is fragile and who questions her own ability to reach the heights that Misty has reached. Misty encourages this young girl's faith in herself and shows her that through hard work and dedication, she too can dance the part of the Firebird, and that she too will soar and fly.
"The idea for Firebird happened gradually. It came about before the memoir but they [Penguin] moved a bit slower," says Copeland.
Christopher Myers told Penguin that he wanted to co-author the book with Misty, "but they didn't know who I was" she recalls. "We hung out for the summer and the concept came from hanging out with me and Raven Wilkinson. He liked the relationship I had with Raven."
The role of Firebird is special to Misty because she was the first black woman in history to play the title role at the Metropolitan Opera House in 2012. In her memoir, Copeland describes the Firebird "as a work that melds the most virtuosic parts of ballet with bravura solos that tell a story of spells, mystical creatures, and love triumphing over evil."
In addition to her love of ballet, Misty is an ardent supporter, alum and an ambassador for the Boys and Girls Club. Misty is proud of the diversity initiative that is in the works with the Boys and Girls Clubs and with the American Ballet Theatre called Project Plié. The goal of Project Plié is to increase the ethnic and racial makeup in ballet. She says that it's "still in the very beginning stages" but the idea "is to bring affordable top notch training to the clubs across the country."
The world of ballet has afforded Misty many opportunities. She's the latest female athlete to represent Under Armour in their campaign, I Will What I Want, and the sports apparel company is banking on Misty to inspire and empower a whole new generation of women athletes.
When asked what her advice would be to those brown girls who are struggling to find their voice, Misty says, "it's important to know who you are. You're going to be viewed by society by the way you look. Stand proud in those things but don't let them become you. Don't let others' ideals box you in."
Courtesy of The Bay State Banner
Firebird, published by Putnam Books, an imprint of Penguin Young Readers Group) is on sale beginning September 4, 2014.
---