JRW Still Making Rounds as Little League Baseball's 2014 World Series U.S. Champions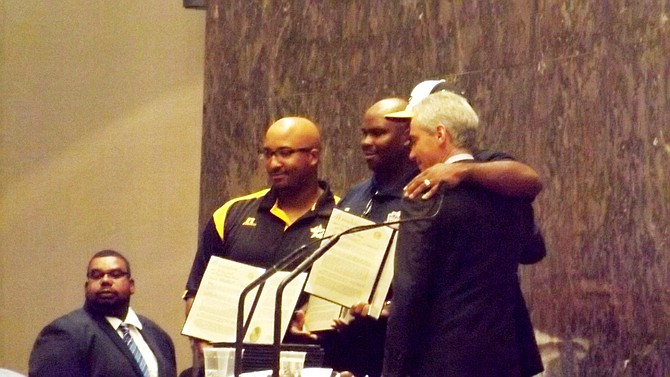 ---
As Chicago's Jackie Robinson West (JRW) All Stars, Little League Baseball's 2014 World Series U.S. Champions slowly return to the normalcy of life, by returning back to school, city of Chicago officials seem a bit reluctant to let go of the excitement surrounding the young celebrities. Chicago Mayor Rahm Emanuel and several aldermen welcomed the JRW All Stars to last Wednesday's City Council meeting where the team, the parents and coaches were once again honored.
One by one, aldermen representing various parts of the city, stood to express their support and praise for the team that galvanized Chicago and the rest of the world with their mature poise and athleticism.
---
---
Ald. Carrie Austin (34th) who along with her late husband, former Ald., Lemuel Austin, and former Ill. State Sen. Emil Jones, Jr., supported and helped the late Joseph Haley, who founded the team, saying the team now belongs to the world.
Upon returning home from the Little League games played in Williamsport, Pa from Aug. 14 to Aug. 24, the team was greeted with joy and excitement from fans as well as elected officials with Illinois Gov. Pat Quinn proclaiming Aug. 27, 2014 as "Jackie Robinson West Championship Day" in honor of the team's U.S. Championship victory.
Ald. Natashia (7th) said she's recently received several calls about Little League Baseball.
Ald. Fioretti (2nd) told the team to, "Use these skills to continue to make us proud some of you may be sitting in these chamber chairs one day."
Ald. Jason Ervin (28th) addressed the City Council saying, "We all need to be sponsoring Little League Baseball in our various wards."
Chicago's 5th Ward, alderman, Leslie Hairston told the team," You all have become the hottest commodity and you know you're something when people are selling boot leg tee-shirts (with your image)."
"I've been involved in Little League all my life," said 9th Ward Ald., Anthony Beale. "Since this whole thing started I've been mentioning Joseph Haley. Jackie Robinson Park and the Little League team was built with the help of Ald. Carrie Austin and Sen. Emil Jones, Jr. The coaches taught the kids to work together and how to succeed. I've built 9 Little League fields on the south side. Someone gave me $100 gift certificates for each player on the team. You all made history and you cannot take this lightly. Be a student first and an athlete second."
Third Ward Ald., Pat Dowell, congratulated the coaches and the parents saying they all made the city proud.
"I'm seeing an increased interest in Little League Baseball. We're trying to start a Bronzeville Little League team, " Dowell said.
Mayor Rahm Emanuel added his comments saying, "You started on the south side and are now America's team. You brought tears to our eyes and pride to your hearts. We had to remind ourselves that you are just 11 and 13 year olds. Your character and maturity wasn't just on the baseball field. This city is indebted to the Haley family."
---