Karen Lewis Visits with Chatham Residents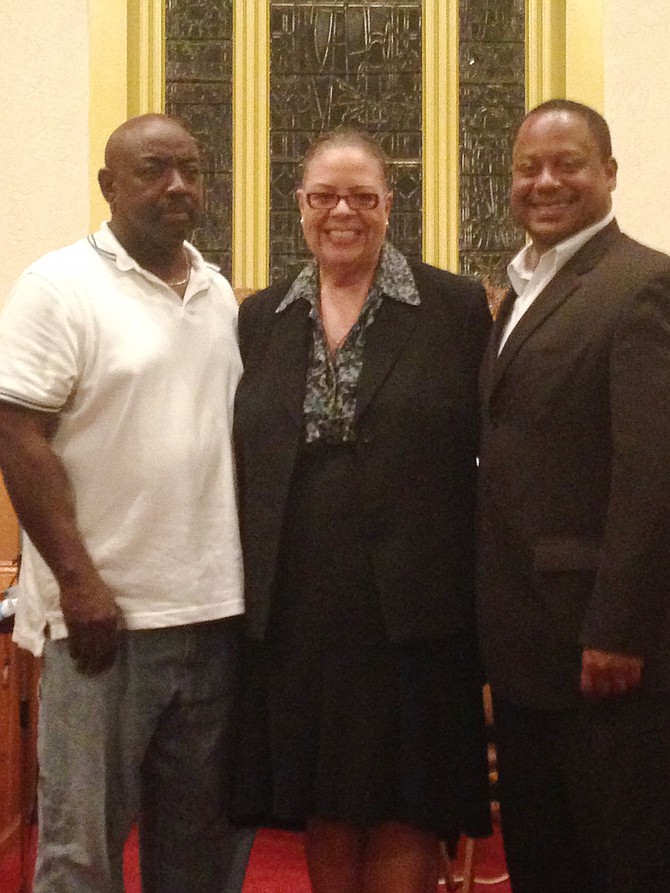 ---
As part of her "Conversations with Karen" public speaking series, Chicago Teachers Union (CTU) president, Karen Lewis, visited Crerar Presbyterian Memorial Church, 8100 S. Calumet Ave., on Sept. 24 where she addressed some of Chicago's "hot topics" and rumors about whether or not she would run for mayor of Chicago.

The event was organized by the Greater Chatham Alliance (GCA), a non-profit, non-partisan organization that works to inform local residents of the issues that will influence their lives and The Karen Lewis Exploratory Committee (whose objective is to explore Lewis' viability as a candidate for Mayor.)
"I look forward to talking with Chatham families," said CTU President Karen Lewis prior to the event. "Across Chicago, I've heard loud and clear that voters are fed up with being nickel-and-dimed by the out-of-touch politicians who have closed our schools, cut jobs and wages, and failed to make our neighborhoods safe and healthy. These listening sessions are a tremendous opportunity to participate in the democratic problem-solving that is needed to turn our city around."
During the event, Lewis remarked on many subjects including whether or not she could serve as CTU president and run for mayor of Chicago at the same time, the need for a locally elected school board, city budget reform, community policing, supporting African American businesses and patronage.

Lewis stated that while she has been encouraged to run for mayor by many supporters, she is looking to reach certain fundraising, and community support "benchmarks", before officially declaring her candidacy.
"It's important that the electorate in terms of the voters in this city be aware of what candidates are running, where they stand, and how [these] issues effect the community," said Greater Chatham Alliance Roosevelt Vonil, who firmly stated that GCA does not endorse any candidate or any party. "We just want our community to be as sophisticated and as aware as any community in the city; we know that the more people that participate in the process, the stronger it makes your community."
Ald. Roderick Sawyer (6th Ward) was also at the meeting.

"It was a great turnout here today, I want to thank Greater Chatham Alliance for hosting the event and obviously to president Lewis to come and be present at the event. We wanted to come and make sure that people come and hear about all of the options available as it comes to the upcoming mayoral election," said Sawyer. "I am here to support [Lewis] as a colleague, as a union leader; she has not made a decision, yet, so I'm not making an endorsement yet but I do appreciate the work that she's done on behalf of the families in the city of Chicago and I want to hear more from her just like I want to hear from all of the candidates."
In a recent Chicago Tribune poll, Lewis was slightly ahead of current Chicago Mayor Rahm Emanuel, 43 percent to 39 percent.

For more information on Greater Chatham Alliance call (773) 837-4941.

---