Harold Washington Library Receives Commemorative Plaque
Lee Edwards | 11/20/2014, 4:52 p.m.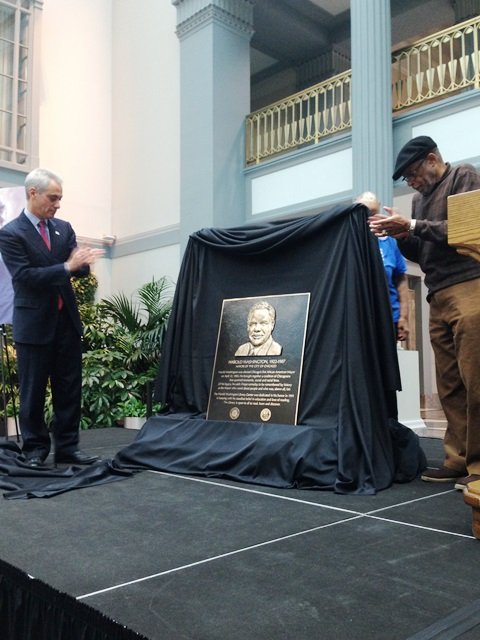 Chicago Mayor Rahm Emanuel, the Harold Washington Legacy Committee, elected officials and dignitaries celebrated the legacy of the first African American mayor of Chicago, the late Harold Washington, at a private ceremony at the Harold Washington Library Center (HWLC), 400 S. State St., in Chicago by unveiling a ceremonial plaque in his honor last week.
The jovial ceremony highlighted Washington by recognizing his progressive vision for Chicago, larger than life personality, and acknowledged his lasting legacy.
"The sun will always rise on Harold [Washington's] legacy, it's alive, it's well, yes, we have to teach it to our kids but it is about weaving that fabric of 77 neighborhoods, 140 different nationalities into one. That is what he showed all of us with his big personality, big smile, and total thirst and love for life," said Emanuel. "There is more to the history of Harold Washington is than just this plaque will say. The history of Harold Washington lives in this room and throughout the City of Chicago. I would not be standing here today if I had not been standing on the shoulders of Harold Washington and Jane Byrne because they broke the glass ceiling."
The Harold Washington Legacy Committee, an educational entity that works to preserve the integrity and authenticity of Harold Washington's message, spearheaded the event and plaque project, after several committee members noticed that Washington's name was not clearly visible at the HLWC, according to Harold Washington Legacy Committee chairwoman, Josie Childs.

"It's magnificent, really, I'm just very excited...but I just couldn't believe there was no plaque or something outside so you could pass the building and know it was the building," said Childs.

Dr. Conrad Worrill, Director of the Jacob H. Carruthers Center for Inner City Studies at Northeastern Illinois University (NEIU), 700 E. Oakwood Blvd, served as the event's keynote speaker.
"This is a great day because anytime we can use the resources of the government to assist a program to help young people in this city and broaden the scope so the relationship of what used to be tradition in the black community and other communities around sports and athletics and arts and music all of the extracurricular activities that have kind of gone away, we need to bring it back," said Worrill. "I'm grateful because I've been working on this for 30 years."
The HWLC is the result of a $144 million design and build plan ordered by Washington in 1987 which opened Oct. 7, 1991, roughly four years after his Nov. 25, 1987 death. The Harold Washington Library Center has the designation of being the Chicago Public Library's (CPL) main library according to its website.

For more information about the Harold Washington Library Center visit http://www.chipublib.org/locations/15/. For more information about the Harold Washington Legacy Committee visit http://mayorharoldwashington.com/.