Massachusetts Gov. Deval Patrick to Serve as Keynote Speaker at Dr. King Celebration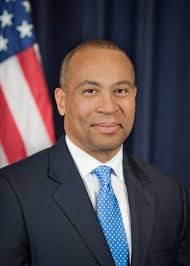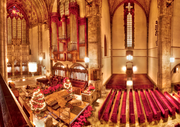 A former Chicago South Side resident, who is now governor of another state, will come back to Chicago this month to help celebrate the legacy of Dr. Martin Luther King, Jr.
Massachusetts Gov. and South Side native Deval Patrick will deliver the keynote address at the University of Chicago's (U of C) Martin Luther King Celebration at 6 p.m. on Wednesday, Jan. 15, 2014 in Rockefeller Memorial Chapel.
Patrick, the first African American Gov. of Massachusetts, elected in 2006 and re-elected in 2010, has deep ties to the South Side of Chicago and the Washington Park community, where he was raised by his mother and grandparents in an apartment near the corner of 54th Street and Wabash Avenue.
At a dedication ceremony in June 2013 for the honorary Deval Patrick Way on Wabash Avenue, Patrick remembered his neighborhood as a place where "every child was under the jurisdiction of every single adult on the block."
"If you are ever going to move beyond where you stand at that moment you have to conjure a picture in your head of where you want to go," Gov. Patrick said in one of his famous quotes.
At 14, Patrick, who was the first member of his family to attend college, won a scholarship to Milton Academy, a prestigious preparatory school in Massachusetts and then went on to graduate from Harvard College and Harvard Law School.
After law school, the Gov. clerked for a federal judge, served as a staff attorney for the NAACP Legal Defense and Education Fund, and joined the Boston law firm Hill & Barlow.
In 1994, President Bill Clinton appointed Patrick Assistant Attorney General for Civil Rights, the nation's top civil rights position. After leaving the Department of Justice, Patrick held senior executive positions at Texaco and Coca-Cola.
Patrick's keynote address is part of the University's, diversity awareness initiative, RISE (Reflect, Intervene, Speak, Engage), which encourages all members of and visitors to the University of Chicago to challenge assumptions about the role of race, gender, sexuality and other aspects of identity in the intellectual community.
Rockefeller Chapel served as the site of one of Dr. King's first major speeches in Chicago in 1956.
Since 1990, the University has celebrated King's legacy with keynote addresses by prominent leaders and innovators. Previous speakers include President Barack Obama in 2002 and Harlem Children's Zone CEO, Geoffrey Canada in 2012.
Other events taking place in honor of Dr. King include the University Community Service Center's annual MLK Day of Service on Saturday, Jan. 18 and a seminar and bus tour on King's legacy hosted by civil rights leader Timuel Black.
Gov. Patrick's speech at Rockefeller Chapel (5850 S. Woodlawn Ave.) is free and open to the public.
Seating is limited and available on a first-come, first-served basis. The speech also will be webcast at UChicago Live.