Black Star Project's Holiday Saturday University Makes Impact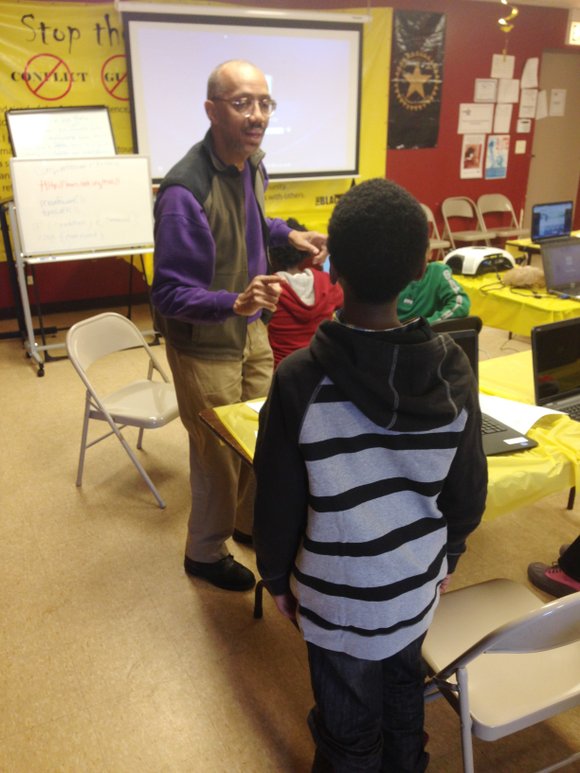 The Black Star Project (BSP), a non-for-profit organization based in Chicago whose mission is to provide educational services that help pre-school through college students succeed academically, conducted Saturday University classes over the holiday break (Dec. 30, 2013 - Jan. 3, 2013). The sessions, which are held at BSP's headquarters at 3509 S. Martin Luther King Dr., included computer coding, financial literacy, entrepreneurship, African-American history, nutrition and college exposure.

Saturday University is an on-going yearlong educational initiative that BSP began three years ago. Classes are free and the average class sizes are 15 to 20 with students ranging in grades from kindergarten to high school.

Founded by Phillip Jackson in 1996, one of BSP's primary goals is to help African-American students become knowledgeable and productive citizens within their communities.
Saturday University is facilitated by volunteer instructors who donate time while imparting knowledge in their respective areas of expertise to students. All instructors are subject to a background check and a mandatory orientation held by BSP which teaches them how to manage students and how to engage them academically.

"The Saturday University is a program where we tutor students in reading, writing and math," said Raquel Kid, Director of Tutoring Programs for BSP. "We have approximately 21 locations across the Chicagoland area where we tutor students for two to three hours on a Saturday morning. We have a six to one ratio, so for every six students we have one instructor. We feel this is very important because these kids are usually in larger class sizes of at least 20 students or more."
According to Kid, the Saturday University's locations extend from as west as the Village of Westchester, IlL., to as far south as the Village of Richton Park, Ill. and to communities 50 miles north of the BSP headquarters.
This past Friday, Saturday University students learned computer coding from Andrea Davis Baptiste, a computer science teacher at A.N. Pritzker School in Wicker Park.
"It's exciting because a lot of the students aren't familiar with coding at all and once you see them get the hang of it you can see their eyes just light up," said Baptiste. "I think that if we got more people involved with this it would have a bigger impact on the community as a whole."
Michael Rise II, a senior at De La Salle Institute heard on the radio that BSP was offering coding instruction and decided to attend Saturday University sessions.

"I heard that they were teaching young black kids coding because it's becoming a major field and I'm about to go to college and I'm interested in studying computer science so I figured it would be a great way to get a head start," said Rise.

For more information about the Black Star Project and Saturday University visit http://blackstarproject.org/action/.