Washington Heights Playground Unveiled
For a child, the allure of a brightly colored playground touting with swings and sliding boards, is pretty much irresistible. Just ask the children who live in the Washington Heights community. They now are enjoying the newly renovated Jackie Robinson Park, which was unveiled last week during a recent ribbon cutting ceremony that included Chicago Mayor Rahm Emanuel, Chicago Park District Chief Administrative Officer Tanya Anthony, Ald. Carrie Austin and members of the Washington Heights community.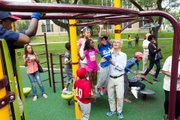 "The new and improved Jackie Robinson Park is more than a safe place for kids to stay active, it's a place for friendships to form, for neighbors to get to know each other and for the community to come together," said Mayor Emanuel. "This is a great example of the kind of investments we are making in neighborhoods all over to Chicago to build a stronger city, one community at a time."
Part of Mayor Emanuel's Chicago Plays! program, the new ADA accessible playground, includes play equipment for children ages two-12 years with rubberized soft surfacing, pathway improvements, picnic tables and benches and landscaping.
"I am pleased to present to the Jackie Robinson Park community and beyond the essential upgrades they've requested for quite a while," said Ald. Austin. "I likewise thank the Mayor for his broad ranging commitment to improve all of the City's park districts. I'm often quoted as saying we're often overlooked because funding for services and improvements run out by the time they reach 99th Street. But today is a great day for our community and I value the potential this park facility and grounds holds toward reinvigorating the use of this vital recreational asset."
Cost for improvements to the 5.96 acre park was approximately $449,000, with $350,000 in NATO (North Atlantic Treaty Organization) funds (left over from last year's NATO Summit) and $114,000 in Chicago Park District funds, according to a press release from the mayor's office.
Jackie Robinson Park is one of 103 playgrounds to be renovated this year under Mayor Emanuel's Chicago Plays! program launched last spring by Mayor Emanuel, who announced that the Park District would rebuild, repair and/or refurbish 325 playgrounds in communities across Chicago over five years. Last year, 50 playgrounds were rehabilitated under the program.
The Park District partnered with Friends of the Park to seek community input to prioritize locations.
An additional five new playgrounds were unveiled at Cragin Park (Belmont Cragin), Montgomery Park (River North), Cornell Square Park (Englewood), Lucy Flower Park (Logan Square), and Cornell Square Park (New City), an announcement of an artificial turf development in Kelly Park (Brighton Park) and groundbreakings for a skate park in Grant Park (downtown), a track and field at Lindblom Park (Englewood) and a sports center (Morgan Park/Beverly).