Literacy Expert Named Interim Dean of UIC's College of Education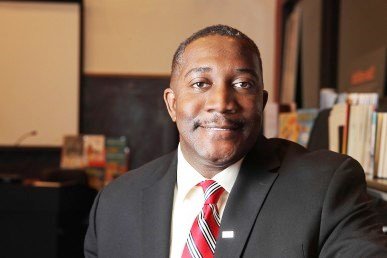 Nationally recognized expert on the literacy of African American boys, Alfred Tatum, was named interim dean of the University of Illinois at Chicago's College of Education, pending approval by the Board of Trustees there.
A professor of curriculum and instruction in the college, Tatum's appointment follows the retirement of Victoria Chou, dean for 16 years.
Since joining UIC in 2007, Tatum has chaired the Department of Curriculum and Instruction, served as director of the UIC Reading Clinic, and coordinator of the doctoral program in Literacy, Language and Culture.
"Low reading achievement contributes to violence and in some cases unemployment," Tatum said.
Tatum suggests several things are required to authorize practices that favor African American boys:
Adopt a model of literacy instruction that leads African American boys to read and write across multiple texts.

Avoid artificial timelines for reading and writing achievement that are based on conjecture, not proof.

Ensure African American boys are having meaningful experiences with texts to restore their confidence in reading and writing as tools of human development.

Do not allow others to compromise the literacy development and justify the compromise with research that has had little to no effect on African American boys.

Avoid a slow-growth model and avoid celebrating small upticks. Celebrating small upticks indicate a lower threshold for success.
Asked his thoughts on the Chicago Public Schools education African American school-age males receive, Tatum said, "It's very clear that we are missing the mark with many of our young boys. We have not found a way to accelerate their reading to put them on the path with the nation's brightest."
Author of three books, Tatum has written literacy curricula distributed by Scholastic Inc. for use by millions of students throughout the country.
Last year, Tatum participated in the National Summit on Educational Excellence and Opportunity for African American Males, part of the White House Initiative on Educational Excellence for African Americans.
For more than 10 years, Tatum has served on the national reading committee for the National Assessment of Educational Progress.
He was also a board member of two major literacy organizations, the International Reading Association and the Literacy Research Association.
Tatum recently authored policy reports and solution briefs for Jobs for the Future, a national organization fostering career-oriented education, and the Council of Great City Schools, an organization of the nation's largest urban public school systems.
Prior to joining UIC, Tatum taught at Buffalo State College, the University of Maryland and Northern Illinois University. He was a senior research associate for North Central Regional Education Lab.
A search for a permanent dean began last year and will continue this fall, said Lon Kaufman, provost and vice chancellor for academic affairs.