Bronzeville Cookin' to Deliver Delicious Food, Fresh Produce, and Jobs
6/13/2013, 3:01 p.m.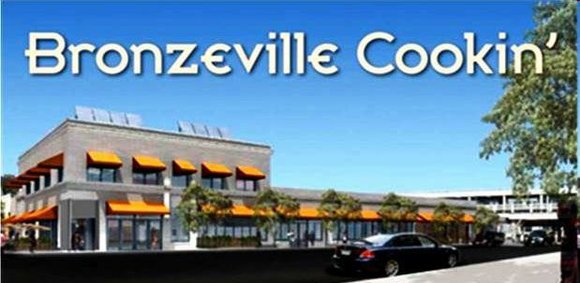 Bernard Loyd, President of Urban Juncture, Inc. recently announced the start of construction of the first phase of the Bronzeville Cookin' project at 51st Street and the CTA Green Line in the heart of the historic Bronzeville community.
"We are delighted to bring valuable food amenities and approximately 70 jobs to Bronzeville," Mr. Loyd said. "We want to thank Alderman Dowell, the City of Chicago, the State of Illinois, and all our project partners, especially our lead financial partners, Chicago Community Loan Fund (with special support from State Farm) and Community Reinvestment Fund, our lead architect, Johnson & Lee, and our project counsel, Charity & Associates, for their support."
Bronzeville Cookin' will be a unique dining destination and culinary incubator celebrating the cuisines, cultures, and communities of people of African descent. Three distinctive, locally-owned and operated restaurants will share a sustainability-rehabilitated, turn-of-the-century building; and, each will highlight a different aspect of black cuisine. In addition, Bronzeville Cookin' will include a market for fresh produce and juice and a rooftop farm providing "hyperlocal" produce. Adjacent parking will provide easy access and the award-winning Bronzeville Community Garden, which opened in Summer 2010, will provide a forum for outreach and events.
"This section of the 3rd Ward desperately needs more healthy dining options like Bronzeville Cookin'," said Alderman Dowell. "I want to commend Bernard Loyd for identifying that insufficiency and investing in the community in which he resides."
"We view good food as being fundamental to good community," said CCLF President Calvin Holmes, "and we are excited and very proud to be a part of this effort."
Other project partners include PNC Bank, GreenChoice Bank, Illinois EPA, Warren Architects, Conservation Design Forum, Solquest Design, Matrix Engineering, and Galloway, Ltd.
Ujamaa Construction, Inc. has been selected as the project's general contractor and the first venue openings are scheduled for the second half of 2013.