50th Anniversary March on Washington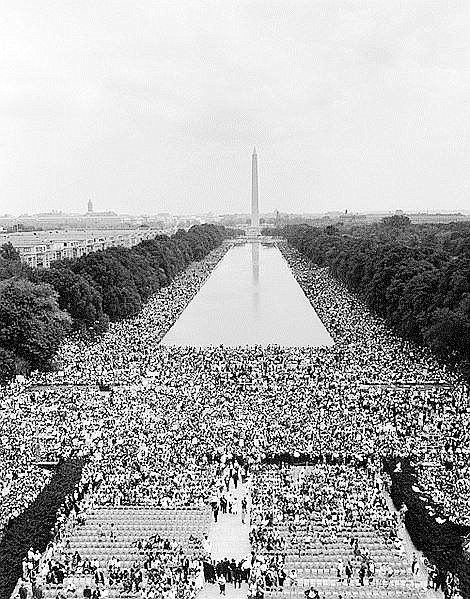 ---
Today, as we commemorate the 50th Anniversary of the March on Washington, undoubtedly the most famous protest rally in recorded history, we also celebrate the legacy of the man behind it all--Dr. Martin Luther King Jr.--who on that day, August 28, 1963, delivered his iconic "I Have Dream" speech on the steps of the nation's capitol, mesmerizing the nation and the world.
No one else on earth has acquired as much holds the kind of influence, power, respect and prestige as King garnered during his all too short 39 years, and only time will tell if anyone else ever will.

Born Jan. 15, 1929, as Michael Lewis King, a name later changed to Martin Luther, King is described by those who knew him, including Ill. Secretary of State Jesse White, as soft spoken and somewhat shy.
"In addition to being a profound speaker, Dr. King was quiet and humble, the kind of person you'd want to have as a father, brother or uncle," said White, who connected with Dr. King as a student on an athletic scholarship to Alabama State University from 1952 to 1957. "I played basketball and baseball. He knew I was poor and would give me $20 and words of encouragement after a game. The way he conducted himself, set a great example for us all."
White, who took part in the Montgomery Bus Boycotts, a movement incited by civil rights icon Rosa Parks' refusal to give up her seat on a crowded Montgomery Alabama bus during the Jim Crow era, also shared the way Dr. King instructed his supporters and followers to "turn the other cheek" during peaceful demonstrations.
White said he told Dr. King, "That's not how we do things in Chicago."
But King, he said, laughingly told him to just stick to the script.
"I was most inspired by his important work and his message that we could achieve great things through unity and peace," White said.
"If you will protest courageously, and yet with dignity and Christian love, when the history books are written in future generations, the historians will have to pause and say, "There lived a great people—a black, people—who injected new meaning and dignity into the veins of civilization,"— Dr. Martin Luther King, Jr., Dec. 31, 1955, Montgomery, Ala.
Dr. King married Coretta Scott, the younger daughter of Obadiah and Bernice McMurry Scott of Marion, Alabama, on June 18, 1953 and had four children; Yolanda Denise (deceased); Martin Luther III; Dexter Scott; and Bernice Albertine who is now a pastor.
According to information obtained from The Martin Luther King, Jr., Center for Nonviolent Social Change website, Coretta Scott King shared her thoughts on Martin in a Western Union Telegram:
"On our way to Orly airport for the long flight back home from Oslo, Norway, where my husband has just been awarded the Nobel Peace Prize for 1964, I want to share with everyone the not-so-often-revealed emotions I have about my life that Martin and I have made together. As I saw him standing there on the great stage in Oslo University's Frestivav Hall receiving the applause of the King of Norway and the largest audience in Nobel Prize history, my mind raced back to the very first moment we met. Both Martin and I had gone to Boston in 1951 to study. He was at Boston University; I was at the New England Conservatory of Music. A mutual friend of ours had told us about one another and one day Martin telephoned to invite me to lunch. 'I like the way you sound on the phone, and I want to meet you,' he said. We met at a small sandwich shop near the Conservatory and I liked him the moment I saw him. We spent an hour over lunch and before we went back to classes he looked into my eyes and said, 'you have all the qualities I'd like in a wife.' He then went on to embarrass me by saying what those qualities were saying 'you have intelligence and you have personality. From what I've heard about you, you also have character and I'm not kidding you when I say you also have beauty.' At first I thought he was just being nice—just putting me on, but as we dated for a long time, I began realizing how really serious a man he was. He almost never said anything he didn't really mean…"
---