A Disc Jockeys Secret Weapon Against Domestic Violence: Karaoke
citizen | 9/26/2012, 4:25 p.m.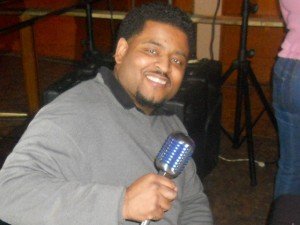 Karaoke night was going just fine as it usually did at City Life Lounge, 712 E. 83rd St., one particular Thursday night. Patrons were on the dance floor jamming and the weekly karaoke regulars were queuing up for their turn on the microphone.
Then something terrible happened according to disc jockey Darian Silk Sims who had only been hosting karaoke at the venue for a few months.
There was a lady inside; she was having a good time. She was actually dancing with a guy. Her boyfriend came in from outside of the place. He had come in earlier with her but he didnt stay; I thought he left. But apparently he left and came back. When he came back the second time he made a bee-line to the dance floor and he just started pummeling this girl punching her in the face, throwing her around and causing a lot of chaos in the club, Sims told the Chicago Citizen.
Club rules kept Sims and other staff from jumping in and fighting the man for the woman. So he called the police.
The fight moved outside the club where Sims said the battery continued. The woman eventually broke from the mans grip and left. Police arrived and detained the man briefly, but they couldnt do much because the woman was no longer on the scene, according to Sims.
They wouldnt allow us to press any charges so this guy basically got away with beating up this girl in our club, the disc jockey said.
He was peeved.
Theres no reason to ever accept being beaten up like that, he said.
Initially I thought they were horse playing, he said. But by the second and subsequent punches Sims was fully aware of what he was witnessing and for him, it was unconscionable.
You dont hit women. Theres no excuse for it, said Sims.
That incident was a call to action for the career DJ who will celebrate one year this coming Saturday as a karaoke host at the Chatham lounge. Sims is celebrating the milestone by reaching out to victims of domestic violence. Sims said he is donating the fee he gets for being the karaoke DJ that night to that cause. Hes also asking those who attend the Sept. 29 event to bring clothing and monetary donations that will be given to a battered womens shelter.
A report by The Illinois Coalition Against Domestic Violence (ILCADV) indicates that over 2,658 people seek domestic violence help each day. On average, domestic violence hotlines in the state field approximately 46 calls per hour. ILCADV reported that in 2010, the last year statistics are available, 43,191 victims of domestic violence were served. Of that number, more than half were between the ages of 18 and 29 and nearly a quarter were African American. Further, at least three women each day die as a result of domestic violence.
Sims wants to diminish the occurrence of domestic violence, albeit in his own way.
In addition to the clothing drive and cash solicitations the DJ, whos been in the industry for only a year and does it full-time, said he would be handing out Silk-ies awards for several of his faithful followers. Also, there will be male singers on hand to serenade the ladies in attendance.
He hopes to collect enough clothing and cash to make a donation that would help at least a dozenvictims of domestic violence.
My whole point of doing thisat the end of the day, I know I didnt just watch something happen and just talk about it. I actually had my hand in helping someone in trouble like that, Sims said. We are human beings, we are people, and we need to help one another.
Sims awards styled Domestic Violence Center fundraiser called "The Silk-ies" is a black tie event and will be held on Saturday, September 29 at City Life Lounge (712 E. 83rd Street) beginning at 9:00 pm. For additional information, please contact DJ Darian Silk Sims at dwsims@hotmail.com or call (872) 230-4756.