Chatham Walmart Supercenter opens 350 Jobs Created
citizen | 1/31/2012, 5:10 p.m.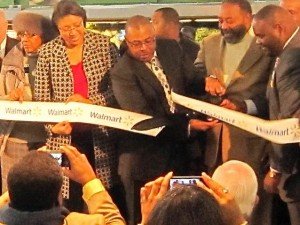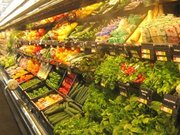 Last Wednesdays grand opening of Chicagos second Walmart Supercenter was the successful culmination of a long political battle and journey for 21st Ward Alderman Howard Brookins.
Brookins worked tirelessly for eight years to bring the worlds largest retailer to West Chatham and now Chicagos newest Walmart Supercenter is located at 8331 S. Stewart Ave. on the new Chatham Market development site. The citys first Walmart opened in 2006 in the Austin neighborhood.
This is a great day, said Alderman Brookins. It was worth the fight. Chicagoans who live on the South Side deserve to have the same economic opportunities Chicagoans on the North Side take for granted. I believe that the Walmart Supercenter will enable the Chatham Market development to expand and grow, providing even more opportunities for the residents of my community to work and shop close to home.
The 157,000 sq. ft. store brings a bounty of fresh food, fruits and vegetables to the area which means residents like Denise Stewart no longer has to face long commutes to other communities for a comprehensive or all inclusive shopping experience.
I absolutely love it, said Stewart. I usually have to go all the way out to Orland Park and I live in over in Chatham, so its a great thing.
Keith Richards, the Walmart Chatham store manager, is a prime example of why Brookins fought hard to bring super store to his ward. Richards begin his career as an hourly associate with Walmart 11 years ago and two years prior to Alderman Brookins first bid for the retailer.
[Its] absolutely amazing to be here on the South Side of Chicago, saving people money so they can live better; its not just a slogan its what we do every day, Richards told the Chicago Citizen.
Brookins explained that Richards story was particularly special. Now he [Richards] makes more than Chicago aldermen as the general manager for this store...its a lot of good stories today and Im just glad I could see this day happen, he said.
Richards most recently managed the Country Club Hills store.
The new Walmart store brings 350 jobs to West Chatham and more than three-quarters of the store associates are South Side residents.
The construction of the Walmart Supercenter was contracted to two minority-owned companiesPowers & Sons and UJAMAA Construction. According to Jimmy Akintonde, president, UJAMAA Construction, an estimated 300 construction jobs were created.
Walmart continues to create opportunity for minorities within the construction industry, said Akintonde. Through a close working relationship with Walmart, Alderman Brookins and the community, we awarded 39 percent of all subcontracts on this project to M/WBE companies, many of whom were local contractors like ourselves with offices in close proximity to the site.
Several elected officials also joined Brookins for the store opening.
This is a great day, said State Sen. Donne Trotter (D-17). Its a great day when you can wake up with a roof over your head and you can put food on the table [and] when you can feed your children. This provides an opportunity for people to do thathelp stabilize the community and become self-sufficient. I am very proud of this moment. Its a long time coming.
Alderman Carrie Austin (34th) is thrilled about the store opening, not only for Chatham but her community as well. She said her constituents not only have the Jewel Osco located in Marshfield Plaza but now also Walmart.
I think I am just as excited as Alderman Brookins, said Austin. This has been a long hard fight. Im glad that I was one of those that stuck with him all the way and to give him encouragement...This is just a win-win for our community.
State Representative Monique Davis (D-27) also attended the grand opening and after the festivities grabbed a cart to do a little of shopping.
I am really grateful to God that this store has finally come to fruition, Rep. Davis told the Chicago Citizen. Three hundred and fifty jobs for people in this community, a manager who started as just a clerk in the store and the food looks so wonderful and fresh. I will be shopping here at Walmart and I thank God that Alderman Brookins and all of those who helped including Governor Quinn continue do to do this hard fight. We know there were people that didnt want it in this community for whatever reason, but we need food and we need jobs like everybody else.
By Thelma SardinTwitter: @thelmasardin