New State Representative Marks Territory in 33rd District
citizen | 4/27/2012, 2:27 p.m.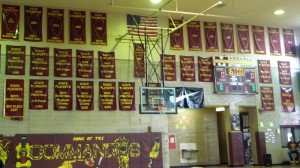 With less than two weeks in office, state Rep. Marcus C. Evans, Jr. (D-33) has zealously answered the call of duty. Evans was appointed to the Illinois General Assembly replacing former Rep. Marlow Colvin, who is currently vice president of governmental affairs at ComEd.
Upon meeting Evans, what jumps out at you is his energetic and vibrant spirit which he plans to positively channel while at his new job at the state capitol.
Sworn in on April 13, Evans has already hit the ground running by sponsoring a handful of bills.
He made his first trip to Springfield on April 16 and prides himself on immediately rolling up his sleeves to work on behalf of his constituents in the 33rd District.
Although the trip was his first as a state official, Evans says hes been to the state capitol many times as a community activist but admits the environment was different this time.
I understood what the atmosphere was like but it was a little different being on the other side, having access to being on the floor and having people that Ive looked up to acknowledge meits a lot to gather, he said.
Evans has been a staunch community advocate and civic leader for a number of years. He most recently worked in the 8th Ward as Alderman Michelle Harris deputy chief of staff. Evans has a strong community presence in the 8th Ward including volunteering as Director of Summer Sports, co-chairing the Family Basket Picnic and the Back to School Parade and Jamboree.
I am honored to serve my community and I look forward to being an open, accessible legislator who addresses the needs of the constituents and works on their behalf to take on the tough issues in Springfield, Evans said. These are difficult times and our communities need dedicated leaders that will fight for better job opportunities, infrastructure improvements and a quality education for our children.
Outside of his legislative and community duties, Evans is also a licensed sports referee with the Metropolitan Officials Organization and the Central Officials Associationhe mediates basketball and football games.
It gives me an opportunity to interact with young Black men, he told the Chicago Citizen. Evans says his role helps the boys see him as a positive authoritative figure. He added that the young men observe his persona. They see me officiating and the way I carry myself, thats important to me, Evans said.
A South Side native, Evans attended Morgan Park High School and Chicago State University.
Shockingly, the 27-year-old is also a cancer survivor and nearly died as a result of his illness.
From 2003 to 2006, I went from hospital to hospital, I lost weight (and) I was near death, Evans said.
He overcame cancer with a major surgery and chemotherapy and believes his near death experience has also prepared him for the state legislature.
I think thats one of the things that prepared me for this opportunity, he told the Chicago Citizen.
Because of his harrowing experience, Evans is a healthcare champion and is interested in surging cancer awareness.
He has worked to inspire cancer patients and has volunteered with the American Cancer Society and also joined the Cancer Action Network where he has crisscrossed the country to advocate for quality healthcare legislation and cancer research funding for Americans.
My experience both as a community activist as well as a cancer survivor have helped push me to work to improve healthcare policies in our state and to continue to fight for the overall health of my community, Evans said. I look forward to hearing first-hand from the people I represent and turning their ideas into action.
Evans said hes heard positive feedback from the community since taking over. Ive heard some good things. I think they know that Im hard working .
The state representative is aware that he may have to prove himself to some constituents and says he has no problem with that.
Ive worked hard as the aldermans deputy chief of staff and assistant so I think that people believe in me, he said. The (residents) that dont, theyll get an opportunity to see my work ethic, (because) Ive already hit the ground running.
Evans does plan to run for re-election in 2014.
Being an elected official is something that I take personal pride in and I definitely want to do the job.
The state representative says that the residents will decide whether or not he remains for another term. Its up to the residents, I just have to show them, he said.
Evans is ready to work hard for constituents of the 33rd district but says he is taking it one day at a time.
By Thelma Sardin
Twitter: @ thelmasardin