Back-to-School Shoppers Greeted With Shrinking Quality, Higher Prices
citizen | 9/13/2011, 3:20 p.m.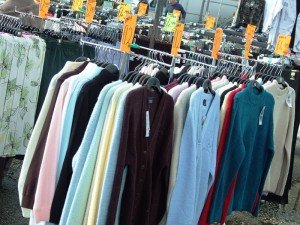 By Chris Levister Special to the NNPA from the Blackvoicenews.com
School aged kids are preparing for their post Labor Day return to the classroom and the tell-tale signs of rising cotton prices and a sluggish economy are everywhere.
The prices are sky high, and the quality stinks, says Lisbeth Rose-Scott, a mother of three school children.
Tis the season of the back-to-school sale, second most important time on the retailer's calendar after Christmas. Early indications are consumers arent buying this years bevy of higher priced merchandise from jeans to pencils.
With costs for consumer goods and services from apparel to food and gas on the rise parents like Rose-Scott are back-to-school shopping at thrift stores and dusting off hand-me-downs. I buy nice clothes for the kids at the beginning of the school year and halfway through theyre already worn out. Even their corduroys have holes in the knees. I cant afford to keep throwing money down the drain.
Retail experts say manufacturers are quietly making clothes that are thinner and made with cheaper quality.
Parents know this season better than anyone. Back to school shopping occurs from July through Labor Day, around the start of fall semester. Advertising for this heavy shopping time started earlier, with some stores cranking out ads in mid-June, when some schools were still in session for the spring semester.
In August 2010, prime school shopping season, consumers spent a combined $7.4 billion at family clothing stores, according to the U.S. Census Bureau.
Apparel, the season's top-selling category for school-aged children, is bracing for cotton cost inflation of as much as 20 percent, the first in at least a decade. The recent weeks' price declines in the commodity don't help, because stores paid for their goods about six to nine months earlier.
Retailers are raising prices on merchandise an average of 10 percent across-the-board this fall in an effort to offset their rising costs for materials and labor. But merchants are worried that cash-strapped customers, who are weighed down by economic woes, will reject price hikes.
Some merchants are using disguise tactics to get parents to open their wallets wide and leave their magnifying glass at home. For example, some are raising prices then offering the well- worn bait of buy one at the higher price and get a second one often for lesser quality. Others are luring shoppers with childrens fashion shows, and free sunglasses with purchase.
Some are using less fabric and calling it new chic. Others are adding glitter, cheap crystals, bows, stitching, fake button holes, zippers to justify price increases. Those embellishments can add pennies to a $1 to the cost of a garment, but retailers can charge $10 more for them, said Marshal Cohen, chief industry analyst with market research firm The NPD Group.
Cohen says parents may want to 'shop' their kids' closets first. Dust off last years jeans, add some lace, or trendy buttons give them a good wash and youre good to go.
Rose-Scott spent $19.00 for a Hello Kitty tee-shirt and a pair of slightly used jeans at a San Bernardino consignment store. A year ago, she paid $21.99 for the same shirt at a department store.
Spending on clothing and school supplies for children in grades K-12 is expected to decline this back-to-school season, a National Retail Federation survey showed.
The survey showed 70 percent of respondents with school-age children said higher food and energy prices may lower their spending this summer.
About 30 percnet of consumers believe prices on new back-to-school merchandise are higher and nearly two-thirds say lower prices far above other factors, are their biggest purchase consideration, the survey showed.
The survey indicates sales are up at the nations dollar store chains as shoppers flock to stores for school supplies like pencils, composition books, crayons, and back packs.
Try consignment stores - prices may be 50 percent lower - and wait if you can - clearance sales begin at the end of September, says Cohen.
Rose-Scott says the higher prices mean her school aged kids wont get everything they want this year. Its now all about putting food on the table and gas in the car.
She admits despite the higher back to school prices, shrinking quality and the morbid dread with which kids claim to greet the renewal of school days, returning to the classroom is an age old reunion to which most of them look forward with anticipation.