Budget Plan Calls For Police District Mergers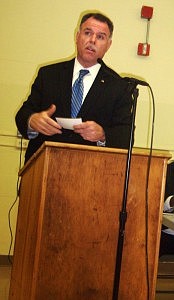 ---
For weeks, public and private discussions have been circulating about Chicago Police Department (CPD) district closings and mergers. Last Monday night during a public meeting at St. Paul the Redeemer Church located at 4935 S. Dorchester, Supt. Gary McCarthy confirmed at least, that the rumored merging of the 21st District with the 2nd District was true.
The current 21st District services the majority of the Hyde Park and Kenwood areas. Its officers also patrol east of Cottage Grove Avenue and extend west at 35th street covering the Oakland and Douglas neighborhoods.
The Grand Boulevard and Washington Park areas are patrolled by the 2nd District and after the merger, its going to absorb all of the 21st Districts responsibilities not including the Chinatown beat. After the merger, the 2nd Districts borders will be: the Dan Ryan Expressway on the west, the lake on the east, 31st Street on the north and 61st Street on the South.
This consolidation plan will create a strong and sustainable organizational structure, allowing officers to perform their duties more effectively and with less bureaucracy. Additional officers will be freed up by the merger of administrative functions meaning more boots on the ground working in districts, Supt. McCarthy said in a released in a statement.
CPDs District 21 which services the majority of the 4th Ward is one of three districts Mayor Rahm Emanuel plans to close and/or merge with as a part of his 2012 proposed budget plan. Other closings include District 13 (Wood) on the citys West side and District 19 (Belmont) on the North side. With the closing of these three districts, Chicago would be left with 22 police districts.
In a statement released by 4th Ward Ald. Will Burns on Oct. 11, he stated,
I have received little information about the number of police who would be reallocated to the new 2nd District. I don't know how the beats within the 21st District will be realigned or managed. More to the point, I am unclear on how the Administration will maintain the 21st District's current low crime rates and reduce crime in the 2nd District.
Burns went on to say that because of the questions he has about this proposal and the concerns of residents in the Ward, he does not support the closing of the 21st District.
Community organizations have banned together showing concern on this issue. On Nov 3, Kenwood Oakland Community Organization (KOCO) will hold a public meeting with invited guest Supt. McCarthy. KOCO will hold an additional meeting at the Sixth Grace Presbyterian Church located at 600 E. 35th St. For additional information, contact the Kenwood Oakland Community Council at 773-548-7500.
By: Abbra Stiffend
---