IDOT Advises Motorists To Start Seeing Motorcycles
citizen | 5/17/2011, 7:30 a.m.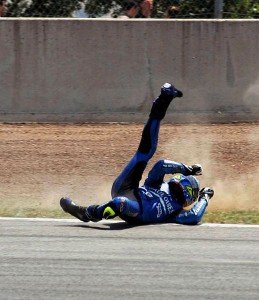 by SheRico Jones
With summer approaching and warm weather already upon the city, the number of motorcyclists sharing the roads with motor vehicles is increasing. The Illinois Department of Transportation (IDOT) and State Police have joined forces with Gold Wing Road Riders Association (GWRRA) and A Brotherhood Aimed Towards Education (ABATE) to launch the Start Seeing Motorcycles campaign.
The Start seeing motorcycles campaign was created to raise motorists awareness of motorcycles in order to reduce the number of motorcycle related crashes. All across the state signs bearing the Start seeing motorcycles message have been
The Illinois State Police is committed to the safety of all motorists, and we are proud to partner with IDOT in an effort to raise awareness and reduce motorcycle related crashes, Illinois State Police Director Hiram Grau said in a press release. Inclement weather, road conditions, traffic congestion and limitations of protective gear, make motorcycle riders susceptible to serious or life threatening injuries, regardless of their experience or skill level. We can all help make this summer safe and enjoyable by practicing safe driving habits and staying focused on the road.
In 2009 a total of 124 motorcycle crashes were reported in Illinois, according to IDOT. From those 124 crashes 130 motorcyclists and passengers were killed. 93% of these fatalities occurred on dry pavement, in broad daylight and 82% of those killed were not wearing a helmet. In order to better equip motorcyclists with the tools they need to ride safely, the Gear Up program was launched.
Some of the key points of the Gear Up program include encouraging riders to keep their bikes in good running condition, to wear protective clothing and increase their visibility. Protective gear includes sturdy footwear, straight-leg pants made of heavy material, reflective or brightly colored long sleeved shirt or jacket, a DOT approved helmet, eye protection and full fingered gloves.
Motorcycles represent only 3% of all vehicle registrations in the state. Therefore, motorcyclists are among the most vulnerable vehicle types on the road and can be easily overlooked by motorists.
When you ride, be aware of your surroundings, others may not see you. Whenever there is a motor vehicle versus motorcycle accident, most of the time the operators comment is I did not see the bike Larry Kolling, GWRRAs Illinois District Motorist Awareness coordinator, said.
There are free Cycle Rider Safety courses offered statewide. These courses provide motorcyclists with additional safety knowledge and training. These courses are coordinated through Northern Illinois University, Southern Illinois University, University of Illinois-Champaign, Illinois State University and Southern Illinois University-Carbondale.
IDOT encourages all Illinois motorcyclists to get involved in creating a safe motorcycling environment. To learn more about IDOTs motorcycle safety programs go to: www.startseeingmotorcycles.org.