Hyde Park Tutor Makes Reading FUNdamental
citizen | 5/3/2011, 1:20 p.m.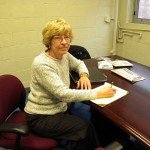 by SheRico Jones
While parental involvement, better schools and an environment that promotes learning all play a role in the educational process, Tutor Barbara Mayers says getting children engaged in reading is fundamental to learning.
Reading is everything, she said. If you have trouble reading, youll have trouble with just about everything else.
Barbara Mayers is a lifelong Hyde Park resident and has been a tutor at Hyde Park Neighborhood club since last fall. Mayers, a DePaul graduate, practiced law for almost 30 years before becoming a tutor.
I knew for a long time that I was interested in literacy issues, but when I was practicing law I didnt have time because I was working pretty long hours, Mayers said. Then, a program called WITS (Working in the Schools) came to my law firm and told us about a program where they enlist working people to spend a couple of hours a week in third grade class rooms. That was my first way to see that I could do it, she said.
After retiring, Mayers worked as a tutor for many different schools and programs. Mayer has tutored both children and adults but stated she finds tutoring adults the most rewarding. Most recently she tutored adults at the now defunct Blue Gargoyle GED program in Hyde Park, before coming to HPNC. Mayers is a tutor with the afterschool program. One of her strategies is to get the children engaged in reading as a physical release.
I pretty much get them when theyve been sitting all day so we do exercises standing in place; breathing and counting exercises, something to get the juices flowing, she said. I had a boy yesterday tell me that he couldnt sit still because he was so tired of sitting and his brain was tired so he couldnt read, she laughed. So we did something else for a while and when we came back he was able to sit down and read for a while longer.
According to the Illinois State Board of Education, the percentage of students from grades 3-8 that meet state reading standards is 77.5% while the percentage of 11th graders is 54%.
The biggest challenges in literacy, Mayers feels, is children not reading at home. Not reading at home affects children when they go to school. When theyre not comfortable reading or being read to, its an uphill journey for the school and teachers, she said.
Most kids who dont like to read are the ones that feel like theyre not very good at it, she said. But what helps is; many children are in the moment but if you show them how much they have improved and that practice pays off, it motivates them.
Mayers states that tutoring was high on her list of things to do after retirement, she loves making a difference in the lives of others and hopes that others get the same joy from it.
I really think this is a wonderful thing to do and I wish more people would do it, she said. Its a very rewarding way to give back and I think a lot of people who have some extra time would get a terrific kick out of the kids and feel real satisfaction, she said.