Aldi Opens in West Chatham
citizen | 6/7/2011, 8:40 a.m.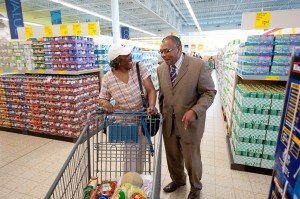 by Thelma Sardin
Last Wednesday, West Chatham and 21st Ward residents celebrated the opening of a new Aldi store located 8500 S. Holland Dr.
The stores opening is part of the discount grocers Chicago area expansion. The store is the first of three scheduled to open by fall 2011.
We are excited for the opportunity to open these additional ALDI locations in Chicago to help customers gain access to affordable, fresh food, Mike Jessen, divisional vice president for ALDI stated in a press release. We have been a part of the Chicago community for many years, and we are excited to help customers stretch their dollars even further in the Chatham neighborhood.
Alderman Howard Brookins, Jr. (21st) was also on hand for the grand opening. The alderman said the stores opening will bring continued economic development to the area.
Ald. Brookins believes the new Aldi will serve as an oasis for people looking for fresh food options. He added that the store has the ability to serve people who would ordinarily not be able to access to a grocery store because of its close proximity to public transportation.
The alderman also said he helped bring the store to the area.
Additionally, Ald. Brookins constituents are ecstatic about the stores opening. Residents see the venture as progress for the community because young people from the community are working in the store, he said.
Aldi has lengthened its store hours. The release stated that the measure saves shoppers money by keeping stores open during prime shopping times. The Chicago locations will be open from 9 a.m. to 8 p.m. Monday through Saturday and from 9 a.m. to 7 p.m. on Sunday. ALDI accepts cash, debit and Link cards.
In celebration of the grand opening, patrons can enjoyed a free summer barbecue in the Chatham store parking, the chance to win free groceries for a year and $100 Aldi Gift Certificates to 25 winners.