Chicagos 2nd Walmart Breaks Ground
citizen | 7/26/2011, 11 a.m.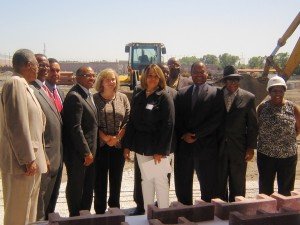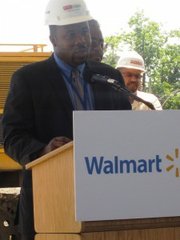 by Thelma Sardin
Several elected officials, dignitaries and community residents were on hand Monday afternoon for the groundbreaking of a new Walmart Supercenter in Chicagos Chatham neighborhood. The Supercenter will be the second Walmart location to open in Chicago, the first store opened on the citys Westside in the Austin neighborhood in 2006.
Among the notables present was William Garth, Sr., Chicago Citizen Newspaper Group, Inc., State Rep. Monique Davis (D-27), Jesse Ruiz, vice president, Chicago Board of Education, State Senator Emil Jones III (D-14) and Alderman Howard Brookins, Jr. (21st).
The future store is a part of the Chicago Community Investment Partnership, a five year plan to open several dozen Walmart stores in the city.
In addition, the plan will approximately create 10,000 jobs and 2,000 unionized construction jobs. Furthermore, the initiative will generate more than $500 million in sales and property taxes and develop charitable partnerships worth $20 million, according to a recent press release.
The Chatham Walmart Superstore is scheduled to open in spring 2012 and will be located at 83rd and Stewart.
Walmart will open eight more stores in several neighborhoods including West Loop, West Englewood and Pullman by spring 2013.
The Chatham store is expected to create 400 jobs and provide South side residents with an additional option for cost-friendly groceries.
Additionally, a Walmart Express store located a few feet from the future Walmart Supercenter location opened on July 27.
Ald. Brookins had been the driving force behind bringing the citys 2nd Walmart to his ward.
This day has been a long time coming its just one more step we are taking to ensure the economic vitality of West Chatham and the South side, said Ald. Brookins. This Supercenter will help residents living in nearby food deserts have easy access to reasonably priced quality producesomething that we are working very hard to ensure for ALL Chicago residents.
The construction of the Walmart Supercenter is being overseen by two minority-owned companiesPowers & Sons and UJAMAA Construction. Jimmy Akintonde, president, UJAMAA Construction said more than 350 construction jobs will be created as a result of the project and the selection process will remain inclusive and local, the release stated.
Walmart continues to create opportunity for minorities within the construction industry, said Akintonde. Through a close working relationship with Walmart, Alderman Brookins and the community, we have awarded 40 percent of all subcontracts on this project to M/WBE [Minority and Women-owned Business Enterprise] companies, many of whom are local contractors like ourselves with offices in close proximity to this site.
According to Julie Murphy, senior vice president, Walmart U.S., the future Walmart store will allow the mega retailer to spur local economic development in Chicago.
At Walmart, we continually see an opportunity to serve more customers across the United States and this is especially true in a city like Chicago where residents are underserved. [Residents] need convenient access to fresh affordable food and economic growth, said Murphy. Walmarts mission is to create jobs and to lower the cost of living for Chicago residents, she added.
Community representatives also shared their exuberance of the Walmart coming to their neighborhood.
We welcome the fact that Walmart has come into our community and given us new economic development and jobs. We want to thank Alderman Brookinsit has been a long fight, said Sandra Harrison, president, West Chatham Improvement Association.