Forum Gives Young Men Best Possible Start in Life
citizen | 12/6/2011, 3:23 p.m.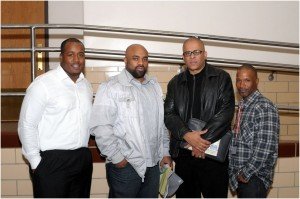 Last month, boys were celebrated and encouraged during an International Mens Day Forum at Chicago Vocational Career Academy (CVCA) on Nov. 19.
The forum is an extension of Real Men Cook Chicago held annually on Fathers Day by Real Men Charities, Inc.
The summit equipped young men with necessary tools to become successful and honored men who are making significant contributions to the community.
The day included three panel discussions and a presentation on healthy living and the need to nurture African American men and boys.
The men honored were recognized as Pillars in the Foundation of the Responsible Fatherhood Movement.
Honorees included renowned psychiatrist Dr. Carl Bell, educator and author Dr. Michael James, Phillip Jackson, Black Star Project and Lafayette Ford, Chicago Public Schools program manager of Parental Engagement and Youth Outreach.
Honoree Phillip Jackson believes that men are needed to combat pervasive issues that global communities face, particularly in the Black community.
International Mens Day affirms the value of men in the lives of children, our families and our community, said Jackson. We cannot solve any of our problems unless men are at the forefront of solutions, especially in the African American community. We must reengineer what it means to be a Black man.
The CVCA event was produced by Real Men Cook co-founder Yvette Moyo Gillard. She believes the event is an avenue to highlight the significance of fatherhood.
This is a real opportunity to bring even more attention to the future of our boys and the importance of fatherhood and mentoring, said Moyo Gillard. Real Men Charities, Inc., programming and mentoring continues to bridge the gap, recognizing our stalwart male leaders who are still working and have passed on knowledge, wisdom, guidance and tradition to a new generation of males, committed young fathers and leaders with case study examples of solutions.
International Mens Day has six pillars that emphasize its purpose and goals.
To promote positive male role models; not just movie stars and sports men but every day, working class men who are living decent, honest lives.
To celebrate men's positive contributions to society, community, family, marriage, child care, and to the environment.
To focus on men's health and well-being; social, emotional, physical and spiritual.
To highlight discrimination against men; in areas of social services, social attitudes and expectations, and law.
To improve gender relations and promote gender equality.
To create a safer, better world; where people can be safe and grow to reach their full potential.
International Mens Day began in 1999 in Trinidad and Tobago. The day is recognized by the United Nations and is observed in more than 50 countries. This years theme is Giving Boys the Best Possible Start in Life.
by Thelma Sardin